Aunt Louise's Cheese Ball. Who is Louise? Louise was my Grandmama Lucy's sister. She always had a twinkle in her eye and a mouth that curved up every so slightly at the corners, as if she were going to burst into a smile at any moment. She was a good hearted person who, like my grandmother, had lived a hard life but always came out on top because she chose to focus on the good instead of amplifying the bad.
This is an unusually good cheese ball, perfect for a party, family get together, or snacks before a meal. For best results, smile as you make it, and think of the folks you love 🙂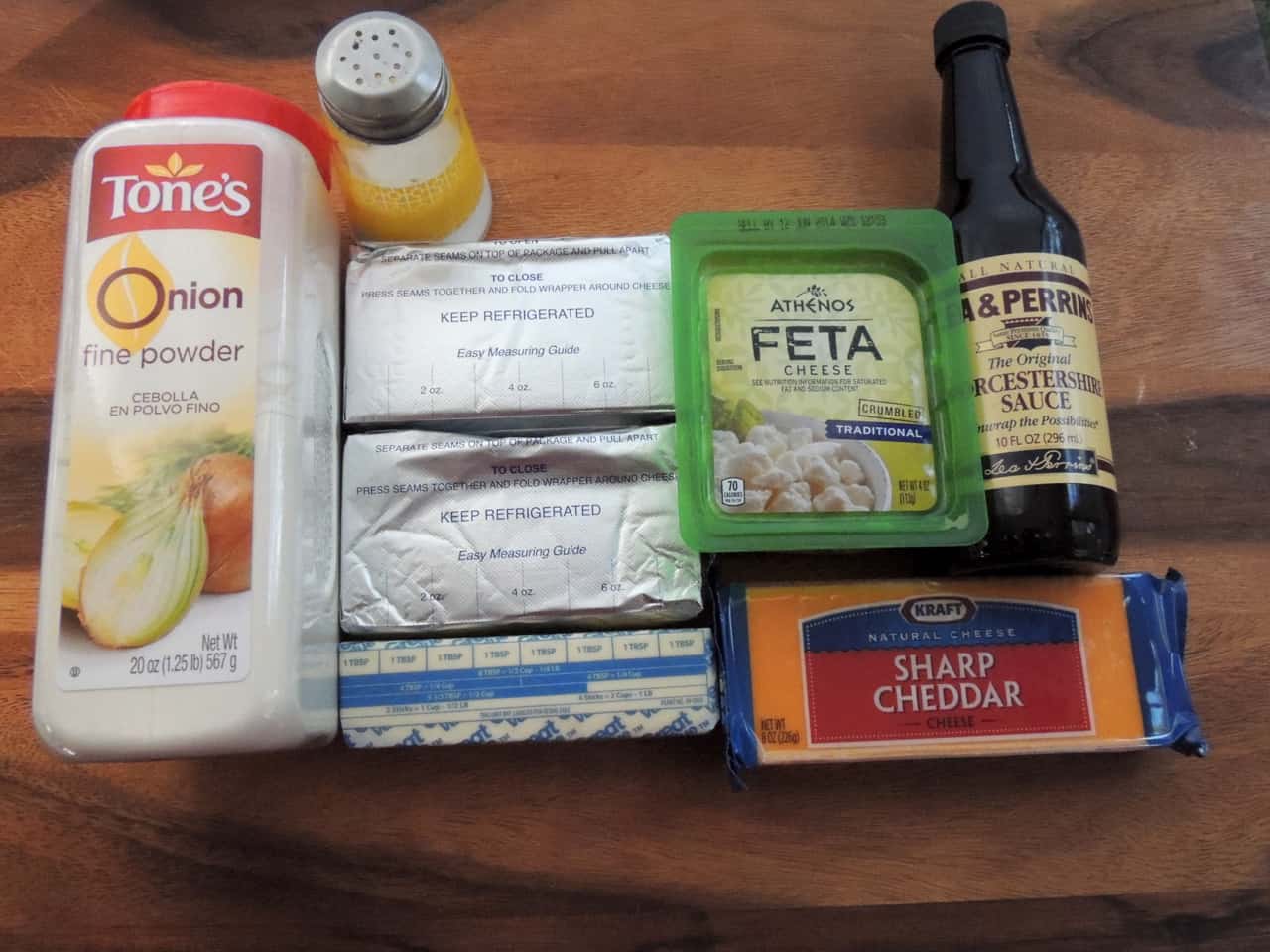 Ingredients for this recipe for Cheese Ball recipe:
Onion or Garlic Powder
Salt
Cream Cheese (check out our easy recipe for homemade cream cheese here).
Butter
Feta Cheese*
Worcestershire Sauce
Sharp Cheddar
Mayo (the mayo was camera shy, so it's not pictured) 😉
Note: You are seeing too much cream cheese here. You just need one brick. But these blocks had become quite close during their short stay in my fridge and I hated to tell one "Well, you're not really needed so you stay behind." So I took him out and got his picture made and he was all happy, felt like he was part of the gang really, then went back to the fridge. In truth, I didn't have enough sharp cheddar to make a whole recipe so I ended up halving it but forgot to take the full recipe amount of cream cheese out. Hey, I'm tired.
Can I replace the Feta Cheese?
*Truth be told, Louise's recipe calls for Bleu Cheese in place of the feta. If you are a bleu cheese person, you should definitely use that.
How to Make a Cheese Ball recipe Step by Step
Grate sharp cheddar and set aside, covered, at room temp for about an hour.
Let Cream Cheese come to room temp as well, then put all ingredients into a mixing bowl.
Now this part is totally optional in the recipe for a cheese ball, especially considering how expensive pecans are…
Scatter some pecan pieces on top of a piece of plastic wrap.
Dump and scrape your cheese onto this.
Roll it up into a ball a little bit and sprinkle pecans on the bald spots.
Wrap the cheese ball up in the plastic wrap and cover with more, then shape it into a smoother ball and refrigerate for a couple of hours.
Or, if you are in a hurry, pop that cheese ball in the freezer for about ten minutes 🙂
Serve this cheese ball with crackers and enjoy!
Thanks, Louise 🙂
Ingredients
8

ounces

sharp cheddar

2

ounces

Bleu Cheese or Feta

eyeball half of a 4 oz box

8

ounces

cream cheese

2

Tablespoons

mayonnaise

2

Tablespoons

softened butter or margarine

1

Tablespoon

worcestershire sauce

1/4

teaspoon

salt

1/8

teaspoon

garlic or onion powder

Chopped pecans

optional
Instructions
Grate cheddar cheese and allow to sit at room temp for one hour (cover it so it doesn't dry).

In a medium mixing bowl, place all ingredients. Mix until smooth and well blended.

Turn out onto plastic wrap that has been sprinkled with chopped pecans (can skip the pecans if you like). Shape into a ball and press pecans in to cover, if desired. Wrap in plastic wrap and form into a ball.

Refrigerate for a few hours before serving.
Nutrition
You may also enjoy these cheese recipes:
Spicy Cheeseburger Dip Football Food!
Oven Baked Mac and Cheese Southern Plate Favorite
Pimiento Cheese Dip Good N Gooey
Cracker Barrel Hash Brown Casserole Cheesy Copycat
"Christmas, my, child, is love in action.
Every time we love, every time we give, it's Christmas."
~Dale Evans