Easy Sopapilla Recipe Using Crescent Rolls
All you need is 4 ingredients to make this easy sopapilla recipe using crescent roll dough. These crispy yet fluffy deep-fried pastries are coated in cinnamon sugar and served with a drizzle of honey.
I think we all have favorite snacks, desserts, beverages, etc, that we consider an extra special treat. On the occasion that we gift ourselves these delicacies we sit down, block out the world, and enjoy every second. That's what sopapillas are for me. Still, as much as I love sopapillas, I don't think about them that often. But a couple of times a year they pop into my mind and I just absolutely have to have one (or two).
Today I'm showing you my easy sopapilla recipe with a shortcut that is pretty stinking life-changing. Us Southerners love crescent roll dough and you know what? It makes the perfect sopapillas, I promise! The only other ingredients you need are oil for frying, cinnamon and sugar for the coating, and honey for the final drizzle.
When you see these ingredients, I bet you don't think you know what they are going to taste like because you are in for a surprise. Turns out, these ingredients were just sitting there patiently waiting to reach the pinnacle of their existence and become sopapillas.
Do you want to know how quick and easy it is to make these homemade sopapillas? All you need to do is cut the flaky dough, deep-fry the triangles, coat them in cinnamon sugar, and add the honey drizzle. They take about 15 minutes, which is my kind of recipe.
Warm, crispy, light and fluffy sopapillas dipped in cinnamon sugar and drizzled with honey. Are you ready for some? Let's get cooking!
Recipe Ingredients
Original crescent roll dough
Vegetable oil for frying
Granulated sugar
Ground cinnamon
Honey
How To Make My Easy Sopapilla Recipe
Roll out your dough and separate it at the seams.
I like to cut along the seams to do this rather than pull it apart because I don't want it stretching out too much.
Stir your cinnamon and sugar together in some type of dish that is big enough for a sopapilla to fit in and set it aside.
Note that I ended up changing to an 8×8 baking dish for my cinnamon sugar later on in this post because this bowl wasn't cutting it.
Pour hot oil to a depth of about 1/2 inch (or so) in a large skillet. Place that over medium-high heat for a few minutes.
You know it is ready to fry when you sprinkle just a pinch of flour in it and the flour bubbles like it's doing in this picture.
Then turn the heat down to medium.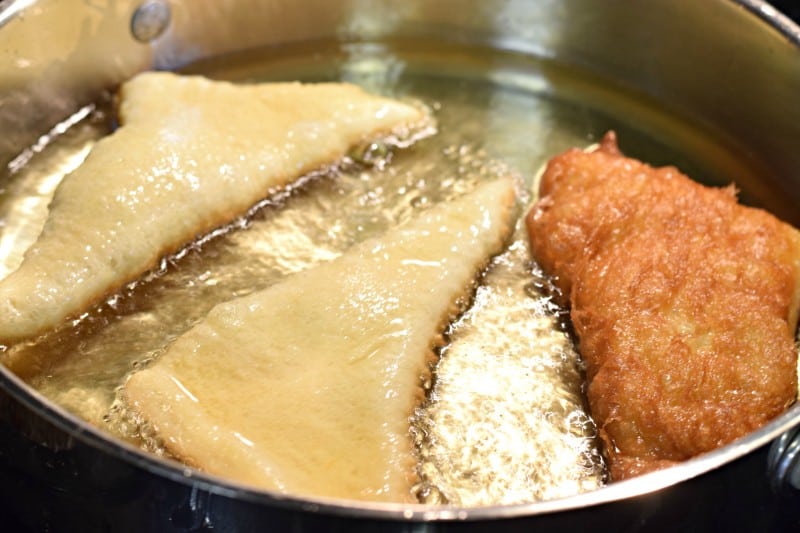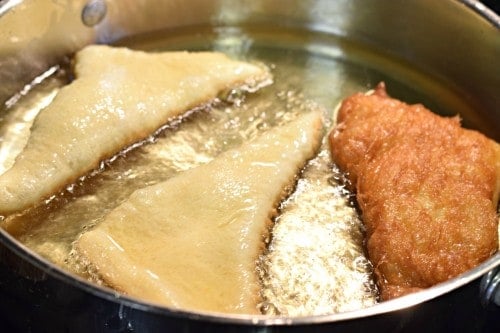 When your oil is hot enough and you have turned it down to medium, fry your sopapillas by gently placing them in the hot oil without splashing.
Cook for a minute or two until golden brown. Then gently flip and cook them for another minute or two until golden brown on the other side.
Once done, remove the fried dough with tongs (which you were hopefully using to flip them) and place them on a paper towel-lined plate.
When you get around to it, you want to dip each side of each sopapilla into the cinnamon sugar mixture.
I prefer to do it while they are still warm but sometimes life doesn't afford me that opportunity and I do it later. No big.
To serve, place them on a plate and drizzle them with honey.
Storage
Store leftover sopapillas in an airtight container in the fridge for up to 3 days and reheat them in the oven or air fryer so they crisp up once more.
You can freeze them, but the crescent roll dough may be soggy once they defrost in the fridge.
Recipe Notes
For a different spice twist, try using pumpkin pie spice or apple pie spice.
For sopapilla cheesecake bars (with a cream cheese filling), check out this recipe that still uses crescent roll dough.
If you'd prefer a richer flavor, use a combination of granulated sugar and brown sugar.
Besides vegetable oil, canola oil and peanut oil are also good oils for deep-frying.
Recipe FAQs
What does sopapilla taste like?
Sopapillas are similar to beignets, funnel cakes, or doughnuts: deep-fried pastries with a cinnamon-sugar coating.
Is sopapilla a churro?
Sopapillas and churros are very similar. They're both sweet fried dough pastries with a cinnamon-sugar coating.
Is sopapilla a dessert?
Yes, it's a delicious dessert!
Sopapillas are popular in New Mexican cuisine and originated there some 200 years ago. They're served in most New Mexican and Tex-Mex-style restaurants across America these days.
What do you eat sopapillas with?
A lot of people eat homemade sopapillas (without the coating) as a side with a main dish, instead of tortillas or bread. But they're typically served as dessert, so here are some serving suggestions:
Honey
Syrup, like maple syrup, strawberry syrup, or chocolate syrup.
Homemade dulce de leche (caramel sauce).
A dusting of powdered sugar like their cousin, beignets.
Whipped cream and fresh berries.
A scoop of vanilla ice cream
Dip them in Mexican hot chocolate or coffee.
Sopapilla got its name from "sopaipa" a Spanish word that comes from the Mozarabic language, "xopaipa", which means bread soaked in oil.
You may also like these cinnamon-spiced treats:
Cinnamon Roll French Toast Casserole
Ingredients
1

8-oz can

original 8-count crescent roll dough

1

cup

granulated sugar

2

tablespoons

ground cinnamon

honey for serving

vegetable oil for frying
Instructions
Pour vegetable oil to a depth of about 1/2 an inch into a medium to large skillet. Place over medium-high heat to preheat while you complete the next steps.

Roll out the crescent roll dough and cut it apart at the seams. In an 8x8 baking dish (or something similar), stir together sugar and cinnamon until well combined.

1 8-oz can original 8-count crescent roll dough,

1 cup granulated sugar,

2 tablespoons ground cinnamon

Test oil for readiness by dropping a pinch of flour in. If the flour bubbles, the oil is ready.

Reduce the temperature to medium and carefully add dough triangles in batches, leaving plenty of room for each to cook without touching. Brown for about a minute or so on the first side and then flip to brown on the other side. Remove to a paper towel-lined plate when both sides are golden brown.

Dip each fried pastry into the cinnamon sugar mixture on both sides and place on a serving platter. To serve, drizzle with honey.
Nutrition
"The happiness of your life depends on the quality of your thoughts."
~Marcus Aurelius