Pumpkin Fritters With Orange Marmalade
These fluffy, filling, and flavorful pumpkin fritters are made with canned pumpkin puree and lots of delicious spices. Add an orange marmalade dipping sauce for the ultimate fall appetizer.
Hot from the pan pumpkin fritters and orange marmalade dipping sauce. My stomach just rumbled writing that. I love to bring a little something different out any time of the year. We all know pumpkin and fall go together but this pumpkin fritter recipe is just as delicious as an appetizer at a barbecue. With just a hint of spice and sweetness, it is particularly satisfying. I'm an orange marmalade gal so that burst of citrus flavor is definitely the best way to top these off.
These easy pumpkin fritters are deep-fried so you can expect a crisp fried exterior and a fluffy moist interior. The perfect combo, right? To make them, you're going to need canned pumpkin puree, granulated sugar, self-rising flour, milk, an egg, and some spices: ground cinnamon, ground allspice, and ground cloves. The instructions are as easy as mixing the ingredients together to make a batter and then frying the batter in hot oil.
Add your orange marmalade dipping sauce and your pumpkin fritters are ready to serve. If the marmalade isn't your thing, rest assured I've included more serving options below. Because the best part of these fritters is that you can enjoy them as a savory appetizer or as a sweet dessert. Who doesn't love that? No matter how you serve them, I hope you make these fluffy pumpkin fritters soon.
Ready for the pumpkin fritter recipe? Don't blink because you might miss it. It's just that easy!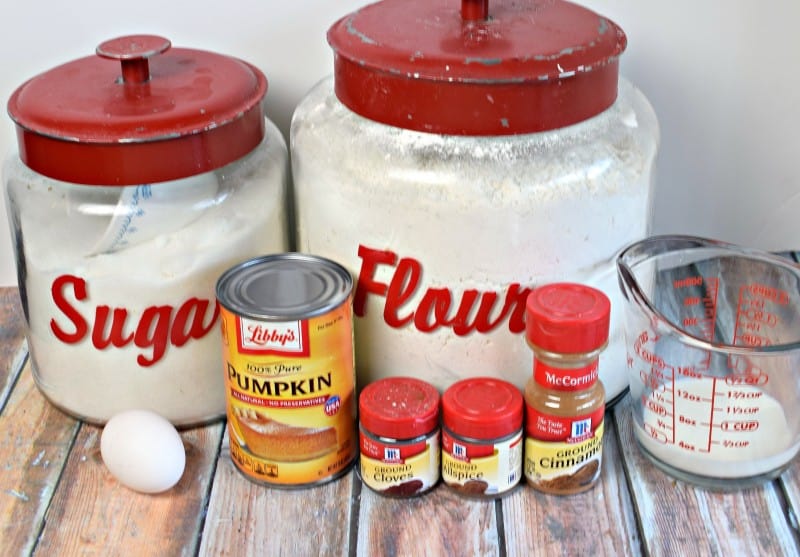 Recipe Ingredients
Canned pumpkin puree
Self-rising flour
Sugar
Egg
Milk
Ground cinnamon
Ground allspice
Ground cloves
Oil for frying
Store-bought orange marmalade
How To Make Pumpkin Fritters
To start, take a saucepot and fill it with the oil of your choosin' to a depth of 2 inches.
Put this on medium-high heat to preheat while we make our batter.
I use a saucepan because it is smaller so I'm able to use a lot less oil in order to get the depth I want.
Now let's make our batter!
Just take all ingredients (exact measurements at the bottom), dump them in a bowl, and stir until they're well mixed like this.
I love recipes like that, don't you? 🙂
Scoop up by spoonfuls and carefully drop that into your hot oil.
I just get my spoon close to the surface of the oil and push the batter off with my finger.
They will immediately start bubbling and float to the top.
Cook until nice and dark golden brown, turning every now and then so they cook evenly, like this.
It will take a few minutes.
Remove to a paper towel-lined plate with a slotted spoon and cook the remainder of the fritter batter.
Tip to get that delicious texture…
Now keep in mind that this batter is dark colored so you need some real browning to go on before you know they are done. It is okay to take one out and cut it in half to test so you know you have the cooking time about right.
I cooked these for about two minutes or so on each side. Then I added an extra minute for good measure.
To make my orange marmalade dipping sauce, I just emptied a small jar of orange marmalade into a bowl, heated it in the microwave for about 45 seconds, and then stirred in two tablespoons of water until well mixed.
This makes it a nice thick syrup consistency, perfect for dipping those fritters in!
Note: You wanna have a spoon in the sauce so they can spoon it onto their fritter or plate.
That's all there is to it, now eat them pumpkin fritters up!
Storage
Now, fritters always taste best when freshly made. However, you can store fritters that are left over in an airtight container at room temperature for up to 1 week. Reheat them briefly in the oven or air fryer to get that crispy coating again.
Recipe Notes
Feel free to substitute the listed spices for 1.5 teaspoons of pumpkin pie spice instead.
If you'd prefer more of a savory flavor, substitute the spices for

1

teaspoon

of

curry powder.

I've listed below how to test if the oil is hot enough, but temperature-wise, you want it to reach 325 degrees. Vegetable oil, canola oil, and peanut oil are all good oils for frying.
Remember you want to use pumpkin puree, not pumpkin pie filling. The latter has added sugar, which we don't need.
If you like, substitute the granulated sugar for brown sugar.
Another easy substitution is to use buttermilk instead of whole milk.
For extra sweetness, add 2 teaspoons of vanilla extract to the batter.
Recipe FAQs
How do you serve pumpkin fritters?
So, you can enjoy them as an appetizer with a sweet dipping sauce like orange marmalade or cranberry sauce. Otherwise, enjoy them as a dessert or sweet snack with a sprinkle of cinnamon sugar, confectioners/powdered sugar, salted caramel sauce, maple syrup, or with a simple sugar glaze on top.
Check out these other easy appetizers:
How to Bake Brie (With Delicious Toppings)
Little Smokies Pigs In A Blanket
Ingredients
1

cup

canned pumpkin puree

1

cup

self-rising flour

1/4

cup

granulated sugar

1

egg

1/4

cup

milk

1

teaspoon

ground cinnamon

1/4

teaspoon

ground allspice

1/4

teaspoon

ground cloves
Instructions
Fill a saucepot with vegetable oil to a depth of 2 inches. Place over medium-high heat while you prepare the batter.

For the batter: combine all ingredients in a medium mixing bowl and stir together with a spoon until well blended.

1 cup canned pumpkin puree,

1 cup self-rising flour,

1/4 cup granulated sugar,

1 egg,

1/4 cup milk,

1 teaspoon ground cinnamon,

1/4 teaspoon ground allspice,

1/4 teaspoon ground cloves

Check the temperature of the oil by dropping a pinch of flour in it. If it immediately bubbles, the oil is ready. If not, allow the oil to heat for a few more minutes.

Reduce oil to medium heat. Carefully drop batter by spoonful into the oil, pushing it off the spoon with your finger. Repeat until you have several cooking simultaneously. Cook for a few minutes on each side, until dark golden brown.

Remove to a paper towel-lined plate and cook the remainder of the batter.

To prepare the marmalade dipping sauce, spoon a small jar of marmalade into a bowl and add two tablespoons of water. Heat in microwave for 45 seconds. Stir together until well combined.
Nutrition
"You better take care of me, Lord, if you don't you're gonna have me on your hands."
~Hunter S. Thompson
This is so true :).