Tex-Mex lasagna combines your favorite taco ingredients with tender lasagna noodles to create an easy and flavorful weeknight supper for the whole family.
Do you like tacos? What about lasagna? If you answered yes to both of these questions, you are in for a treat! My Tex-Mex lasagna is calling your name as it combines the best of both worlds. Taco ingredients layered with tender lasagna noodles and lots of ooey-gooey melted cheese… what more could you want?
Okay, so what do you need to make my Tex-Mex lasagna recipe? Basically your favorite taco ingredients: ground beef, salsa, taco seasoning, cilantro, corn, refried beans, cheese, green chilis, black beans, tomato sauce, and onion. Plus, some lasagna noodles, of course. These are a lot of ingredients, I know, but they're gonna make a rib-sticking, tongue-wagging, awfully good supper!
All you need to do is brown your beef and onions in a skillet and then add the remaining ingredients. Stir all of those delicious flavors together and then it's time to layer our lasagna. We start with a layer of salsa on the bottom and then add noodles, filling, cheese, and repeat! Bake the lasagna in the oven for about 45 minutes and your weeknight supper is ready to serve.
This is a firm family favorite in my household and I don't mind because it's so easy to make and tasty to boot! Ready to give it a go yourself?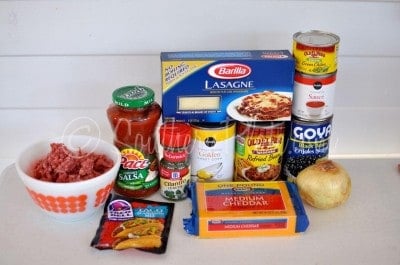 Recipe Ingredients
Ground Beef
Salsa (mild to hot, up to you)
Tomato sauce
Taco seasoning
Dried or fresh cilantro
Canned corn kernels
Refried beans
Cheddar cheese
No-cook lasagna noodles
Chopped green chilis
Black beans
Onion
How to Make Tex-Mex Lasagna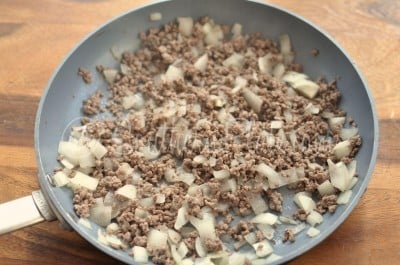 Chop your onion and brown it with your ground beef over medium-high heat until nice and done.
Isn't this silly that I am showing you a photo of my skillet posed on a cutting board instead of on my oven? It's just kinda dark in that oven corner of my kitchen so I came out to my little diner.
Shred your cheese if you have a block or skip this step if you have pre-shredded cheese.
Add your salsa (saving just a little for the bottom of your baking dish), tomato sauce, taco seasoning, cilantro, chilis, and refried beans to the ground beef and onions.
Stir that up really well and cook it for a few minutes over medium or so until it is nice and bubbly.
Add in your drained corn and black beans and stir them up well, too.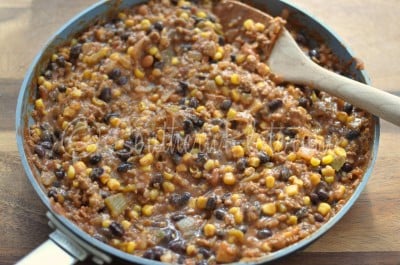 Like so.
Spread the remaining salsa over the bottom of your baking dish.
Cover that with some lasagna noodles.
If you have to break them to get them to fit, knock yourself out.
Spread half of your filing over the noodles.
Top with half your cheese.
Then more noodles…
I bet you know where this is going, right? ~winks~
The rest of your filling…
And the rest of your cheese.
Bake, uncovered, for 45 minutes or until the lasagna is bubbly and pasta is tender.
Let it sit for about five minutes or so before cutting.
Dig in!
Storage
Store leftover lasagna in an airtight container in the fridge for up to 4 days. You can reheat in the microwave or oven.
You can also freeze leftovers for up to 3 months. Thaw overnight in the fridge before reheating as above.
Recipe Notes
I've gotten in the habit of shredding cheese for lasagnas because it melts and gets so smooth and nice. The pre-shredded stuff (which I am STILL a fan of) is coated with anti-caking agents that keep it from getting as smooth as when you shred yourself.
This recipe is really easy to adapt to your tastes. Here are some suggestions:

Use whatever cheese you like, including mild, medium, or sharp cheddar, a Mexican cheese blend, Monterey Jack cheese, Colby Jack cheese, mozzarella cheese for maximum melt factor, or Pepperjack cheese.
Use mild or hot salsa.
Add 1 diced green bell pepper when you saute the onion.
Opt for ground chicken or ground turkey instead of beef if you prefer.
Leave out the corn and black beans if you like. Otherwise, use different varieties, like frozen corn, fresh corn, or kidney beans.
If you can't find oven-ready lasagna noodles, just buy regular ones and boil them according to package directions before assembling this dish.
Substitute the green chiles for 1 seeded and chopped jalapeno pepper.
Recipe FAQs
Should lasagna be 2 or 3 layers?
Your lasagna can include 2, 3, or 4 layers. Take your pick!
Yes, you can cook and assemble the lasagna up to 24 hours before baking it. Cover it with plastic wrap or aluminum foil and store it in the fridge until you're ready to bake it. It might just need a few more minutes in the oven the next day.
Why does the lasagna need to rest before serving?
Allowing it to rest allows it to set further and hold together better. Plus, ya know, it makes sure you don't burn ya tongue!
What do you serve with Tex-Mex lasagna?
This lasagna is the perfect main dish as is. But you might also like to serve it with a side salad, Mexican rice, cilantro-lime cauliflower rice, or some more popular taco toppings. We're talking about avocado/guacamole, diced green onion, chopped tomatoes, shredded lettuce, chopped black olives, and/or a dollop of sour cream. You can also add a serving of corn chips to the dining table for something different.
How do you make Mexican lasagna?
The main difference between Mexican/taco lasagna and Tex-Mex lasagna is that they use corn or flour tortillas instead of lasagna noodles. You can take this route instead if you like. Just follow the instructions and cut the corn tortillas to fit into the casserole dish. But it will probably only need about 15 to 20 minutes in the oven, as the tortillas will soften much quicker than the lasagna.
You may also like these recipes:
Stuffed Zucchini Boats, Tex-Mex Style
Tex Mex Dip (a.k.a 7-Layer Dip)
Slow Cooker Tacos With Ground Beef
Ingredients
1

pound

ground beef

1

small onion, chopped

1

1.25-ounce packet

taco seasoning

1

teaspoon

dried or fresh cilantro

1

15-ounce can

whole corn kernels, drained

1

15-ounce can

refried beans

4

cups

shredded cheddar cheese

1

15-ounce can

black beans, drained

1

4-ounce can

diced green chilies

1

16-ounce jar

salsa

8

ounces

tomato sauce

1

9-ounce package

oven-ready lasagna noodles
Instructions
In a large skillet, brown ground beef and onions until beef is no longer pink in the center. Drain off any grease.

1 pound ground beef,

1 small onion, chopped

Add refried beans, chiles, taco seasoning, cilantro, 1/2 of the salsa, and tomato sauce. Stir and place over medium-high heat, stirring constantly, until bubbly (about 4-5 minutes).

1 1.25-ounce packet taco seasoning,

1 teaspoon dried or fresh cilantro,

1 15-ounce can refried beans,

1 4-ounce can diced green chilies,

1 16-ounce jar salsa,

8 ounces tomato sauce

Remove from heat and stir in corn and black beans.

1 15-ounce can whole corn kernels, drained,

1 15-ounce can black beans, drained

Spread remaining salsa into bottom of a 9x13 baking dish. Top with a layer of lasagna noodles, breaking to fit if need be. Spread 1/2 of the filling from the skillet over the noodles. Top with half the cheese.

4 cups shredded cheddar cheese,

1 9-ounce package oven-ready lasagna noodles

Repeat.

Bake at 350 for 45 minutes or until bubbly and the pasta is tender.

Allow to sit for five minutes before cutting. Enjoy!
Nutrition
In the depth of winter I finally learned that there was, in me, and invincible summer.
~Albert Camus