How to Make Squash Casserole

I will be the first to admit, I am a recent convert to squash and subsequently this squash casserole. However, in my defense I would like to say that I never actually tried it until a few years ago. I don't know what exactly held me off. Maybe it was the weird look of it, the odd name, or the fact that the same old folks who liked to drink buttermilk by the glassful and eat things like livers and poke sallet loved it so very much. I'm not sure exactly what it was which deterred me from squash but I do know that when I finally did taste it, I was won over in the first bite.
Squash casserole is one of those dishes that varies so widely in recipes. I swear there are at least a hundred different variations out there. This one is my favorite. Gooey cheese, buttery cracker crumbs adding a hint of crunch, and the taste of garden fresh squash – even though I do use frozen most of the time.
This is a cinch to make and very filling for a side dish.
Alas, kids will likely give it a wide berth, but if they had any decent judgment in things they wouldn't need parents, now would they?
Ingredients you'll need for squash casserole:
Cheddar cheese
Onion
Milk
Eggs
Butter
Ritz crackers (or generic)
Squash
Fresh Squash or Frozen?
I use fresh when it is given to me but if I am buying it, I just get frozen. Why? Well, I'm glad you asked that ~snickers~. I've found the quality and size of fresh squash in the grocery produce section to vary widely. It is rare to be able to find any decent sized squash that are still somewhat firm and if you do they are priced out the wazoo for the quantity you need.
What To Look For When Buying Frozen Squash
When you buy frozen squash, you get nice thick slices and a quality that has never been less than excellent from what I've seen. I can buy a bag of frozen squash for less than two dollars. To yield the same amount of nice thickly sliced squash from the produce section, I'd pay twice as much and likely end up with over ripe squash anyway. Perhaps it is different where you are but that is how it is in Bama.
Pour about a cup and a half of water into a large skillet
Add onions
And squash.
Cook over medium heat until squash and onions are tender.
Drain water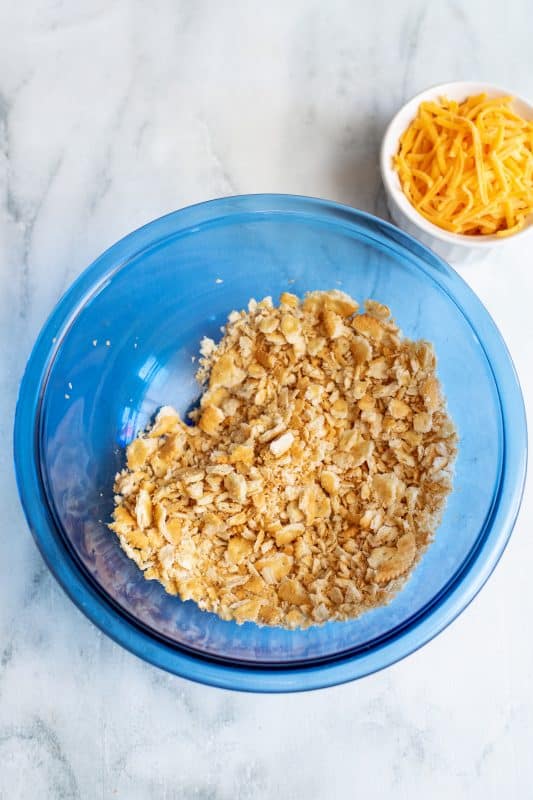 Meanwhile, back at the ranch
….Crush your crackers in a bowl.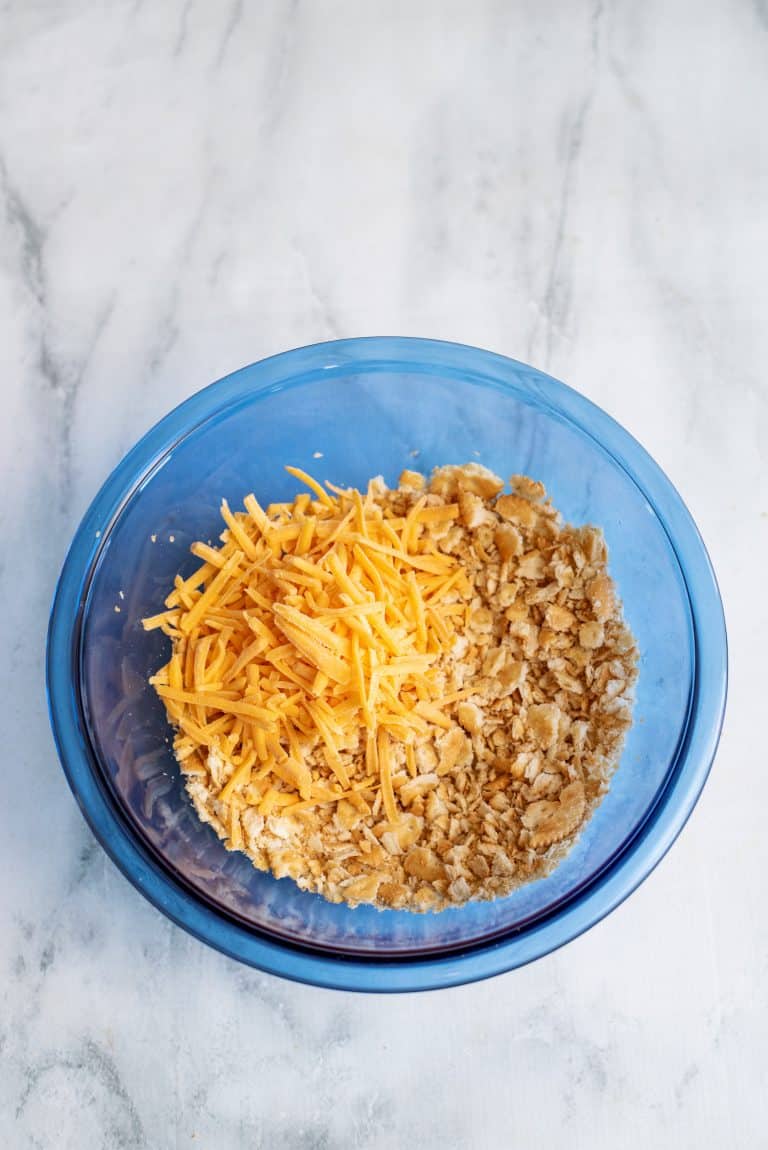 Add cheese and stir.
Season with pepper and salt.
Crack your eggs into the glass of milk and stir well with a fork.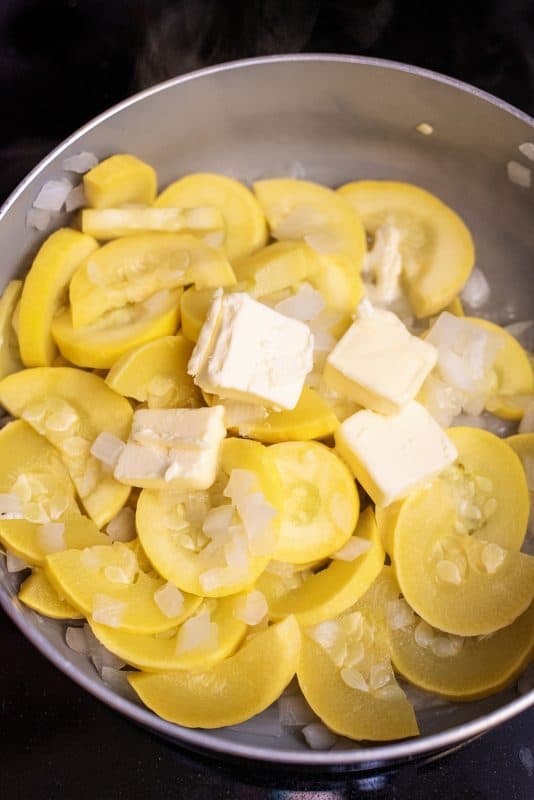 Add half a stick of butter to your squash and let it melt.
Then pour in the milk mixture.
Stir that up.
Stir in half of the cracker/cheese mixture.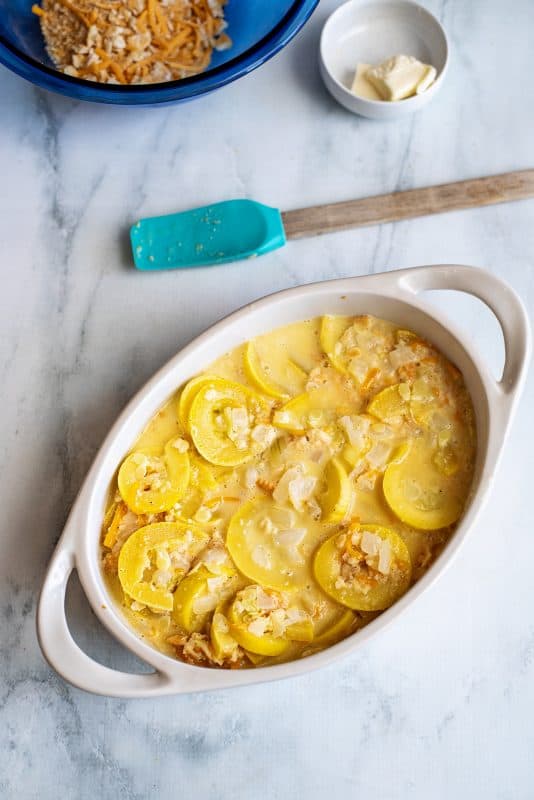 And pour into a casserole dish.
Top with remaining cracker/cheese mixture and dot with butter. For me, dotting with butter means putting a few globs on top!
Bake at 350 for 25 to 30 minutes or until browned.
Dig in!!
Ingredients
4

cups

yellow squash

sliced

1/2

cup

onion

onion

35

Ritz crackers

sleeve buttery round

1

cup

shredded Cheddar cheese

2

eggs

beaten

3/4

cup

milk

1/4

cup

butter

melted

1

teaspoon

salt

ground black pepper to taste

2

tablespoons

butter
Instructions
Preheat oven to 350. Put squash, onion, and about a cup and a half of water in a large skillet over medium heat. Cook until squash and onions are tender, about five to ten minutes. Drain well. Add half stick of margarine and let melt.

In medium bowl, crush crackers and stir in cheese. Add salt and pepper, stir. Stir half of the cracker mixture into the squash.

In small bowl, mix together milk and two eggs. Pour into squash mixture. Stir well. Pour into casserole dish. Top with remaining crumb mixture and bake at 350 for 25-30 minutes, or until top is browned.
Nutrition
Calories:
171
kcal
|
Carbohydrates:
13
g
|
Protein:
8
g
|
Fat:
10
g
|
Saturated Fat:
5
g
|
Cholesterol:
59
mg
|
Sodium:
533
mg
|
Potassium:
253
mg
|
Fiber:
1
g
|
Sugar:
5
g
You might also enjoy these recipes!
How To Make Squash Relish & Joining A Food Co-op
Simple Squash – And Simply The Best Day Ever
Cornbread Casserole Recipe Simple and Savory
Sloppy Joes Casserole Deep Dish Recipe