How To Make Squash Casserole
Let's learn how to make squash casserole. This recipe is so easy and features that garden-fresh squash taste, melted cheese, and irresistibly buttery cracker crumbs.
I will be the first to admit, I am a recent convert to squash and subsequently this Southern squash casserole recipe. However, in my defense, I would like to say that I never actually tried it until a few years ago. I don't know what exactly held me off. Maybe it was the weird look of it, the odd name, or the fact that the same old folks who liked to drink buttermilk by the glassful and eat things like livers and poke sallet loved it so very much. I'm not sure exactly what it was which deterred me from squash but I do know that when I finally did taste it, I was won over in the first bite.
Squash casserole is one of those dishes that varies so widely in recipes. I swear there are at least a hundred different variations out there. This one is my favorite. Gooey cheese, buttery cracker crumbs adding a hint of crunch, and the taste of garden-fresh squash (even though I do use frozen squash most of the time). Fortunately, this is a cinch to make and very filling for a side dish.
Alas, kids will likely give it a wide berth, but if they had any decent judgment in things they wouldn't need parents, now would they?
Recipe Ingredients
Cheddar cheese
Onion
Milk
Eggs
Butter
Ritz crackers (or generic)
Squash
How to Make Squash Casserole
Pour about a cup and a half of water into a large skillet.
Add diced onion…
And yellow squash.
Cook over medium heat until squash and onions are tender (about 5 to 10 minutes).
Drain the water.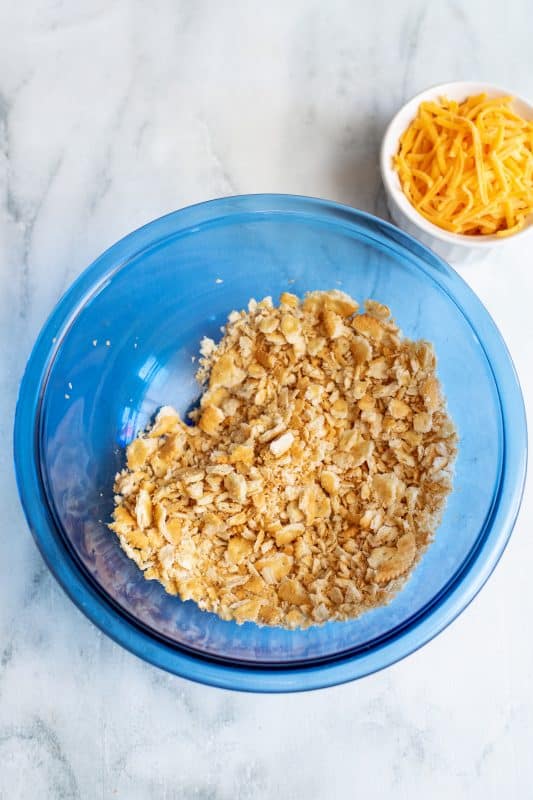 Meanwhile, back at the ranch… crush your crackers in a bowl.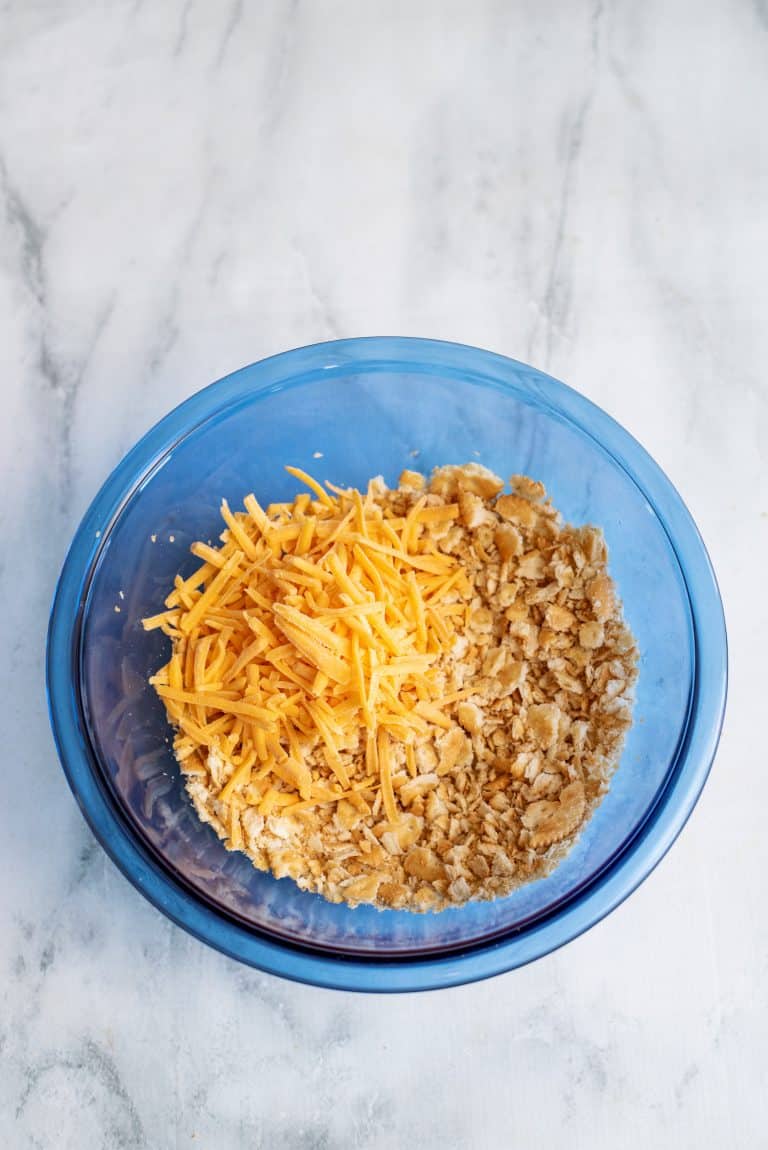 Add shredded cheese and stir.
Season with pepper and salt.
Crack your eggs into the glass of milk and stir well with a fork.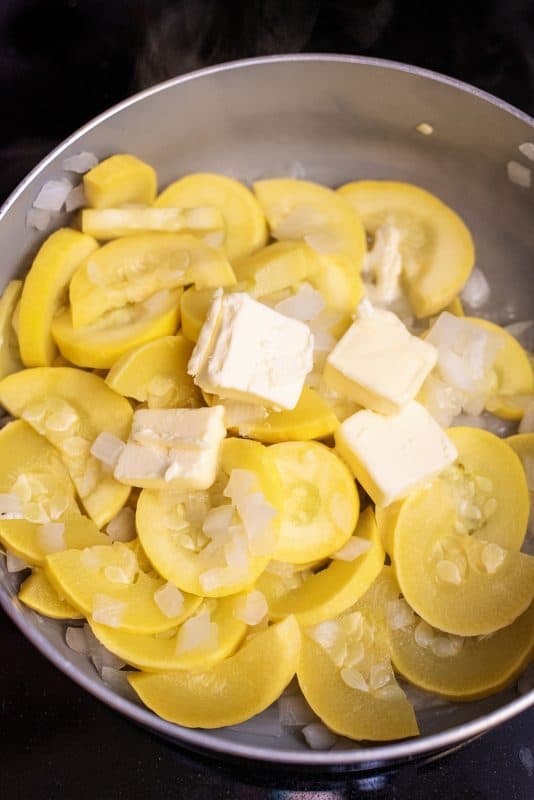 Add half a stick of butter to your squash and let it melt.
Then pour in the egg mixture.
Stir that up.
Stir in half of the Ritz cracker and cheese mixture.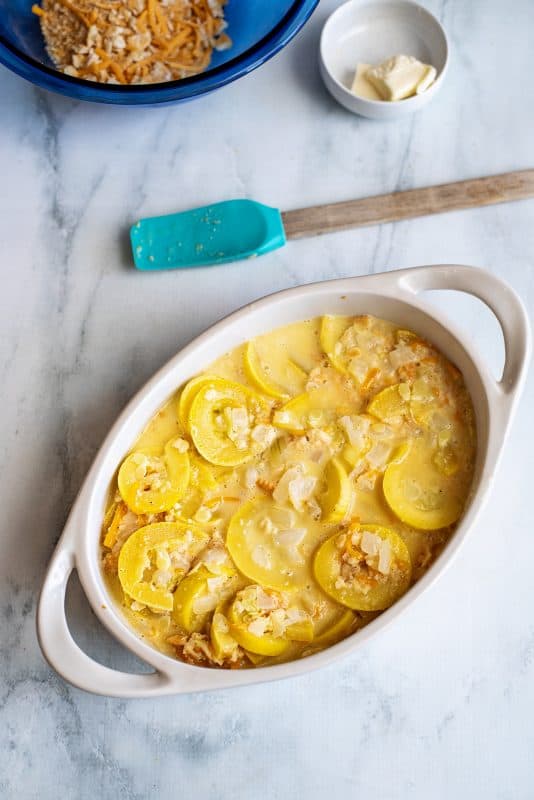 Pour squash casserole into a casserole dish.
Top with remaining cracker/cheese mixture and dot with butter. For me, dotting with butter means putting a few globs on top!
Bake at 350 for 25 to 30 minutes or until golden brown.
Dig in!! Enjoy this delicious old-school squash casserole recipe.
Storage
Store casserole leftovers in an airtight container in the fridge for up to 4 days. However, it can get soggy over time, so it's best to eat ASAP. Reheat in the microwave, oven, or air fryer. Alternatively, store leftovers in the freezer for up to 3 months. However, once again the casserole might be soggy once thawed.
Recipe Notes
Yellow squash and zucchini are similar vegetables and can be used interchangeably in this recipe. So substitute all the squash for zucchini or use a combination of both to make zucchini and squash casserole.
If you want to add even more vegetables to your casserole, saute some diced red bell pepper with the other veggies in the skillet.
Feel free to substitute the cheddar cheese for another type of cheese, like Monterey Jack, Colby, or mozzarella cheese.
You may also like adding some fresh herbs to your casserole. Chop them and add them to the skillet with the butter. Options include parsley, thyme, oregano, basil, and chives.
If you don't have access to Ritz crackers, alternatives include corn flakes, panko bread crumbs, or crumbled croutons.
Recipe FAQs
Should I use fresh squash or frozen squash in my casserole?
I use fresh squash when it is given to me but if I am buying it, I just get frozen squash. Why? Well, I'm glad you asked that ~snickers~. I've found the quality and size of fresh squash in the grocery produce section to vary widely. It is rare to be able to find any decent-sized squash that is still somewhat firm and if you do they are priced out the wazoo for the quantity you need.
When you buy frozen squash, you get nice thick slices and a quality that has never been less than excellent from what I've seen. I can buy a bag of frozen squash for less than two dollars. To yield the same amount of nice thickly-sliced squash from the produce section, I'd pay twice as much and likely end up with overripe squash anyway. Perhaps it is different where you are but that is how it is in Bama.
What do you serve with yellow squash casserole?
This casserole is the perfect side dish to accompany all kinds of main meals, like turkey breast, roast chicken, glazed ham, fried chicken, fried catfish, and pork chops. It's also delicious served with other side dishes, such as mashed potatoes and macaroni salad.
Can I make my cheesy squash casserole ahead of time?
Yes, you can assemble the casserole in advance and then cover and refrigerate it for up to 24 hours. When it's time to bake, let the dish come to room temperature for at least 30 minutes before it goes into the oven. You can also cook the casserole and then reheat leftovers as well.
You might also enjoy these recipes!
Simple Zucchini and Squash Recipe
Ingredients
4

cups

yellow squash, sliced

1/2

cup

onion

35

Ritz crackers

(a sleeve of buttery round Ritz crackers)

1

cup

shredded cheddar cheese

2

eggs, beaten

3/4

cup

milk

1/4

cup

melted butter

1

teaspoon

salt

ground black pepper to taste

2

tablespoons

butter
Instructions
Preheat oven to 350. Put the squash, onion, and about a cup and a half of water in a large skillet over medium heat. Cook until the squash and onions are tender (about 5 to 10 minutes). Drain well. Add half stick of margarine and let melt.

4 cups yellow squash, sliced,

1/2 cup onion,

1/4 cup melted butter

In a medium bowl, crush the crackers and stir in the shredded cheese. Add salt and pepper and stir. Then stir half of the cracker mixture into the squash.

35 Ritz crackers,

1 cup shredded cheddar cheese,

1 teaspoon salt,

ground black pepper to taste

In a small bowl, mix together the milk and two eggs. Pour into the squash mixture and stir well. Pour into a casserole dish. Top with the remaining cracker topping and dot with remaining butter. Bake at 350 for 25-30 minutes, or until the top is golden brown.

2 eggs, beaten,

3/4 cup milk,

2 tablespoons butter
Nutrition
Calories:
171
kcal
|
Carbohydrates:
13
g
|
Protein:
8
g
|
Fat:
10
g
|
Saturated Fat:
5
g
|
Cholesterol:
59
mg
|
Sodium:
533
mg
|
Potassium:
253
mg
|
Fiber:
1
g
|
Sugar:
5
g