40+ Valentine's Day Recipes
From indulgent main meals to decadent desserts, here are over 40 of my favorite Valentine's Day recipes.
I don't know about you, but every Valentine's Day I like to cook a special dinner for the entire family. I've done all sorts of things over the years, from heart-shaped meatloaf to cinnamon love knots, and usually chocolate cobbler or brownies for dessert. Chocolate is a must for Valentine's Day in my book, so rest assured there are several chocolate dessert recipes featured below. But we've also got cookies, strawberry pie recipes, and so much more.
But first, I also have your main course covered. There's steak, pizza and pasta if your significant other loves Italian, and Marry Me chicken if you want them to take a hint 😉. Then cozy up with homemade hot cocoa at the end of the night for the perfect Valentine's night in.
Enjoy these recipes (there are over 40 to choose from) and Happy Valentine's Day!
Valentine's Day Dinner

I made steak kabobs in the oven and rice pilaf this Valentine's Day and my family loved every bite. The beef kabobs are so easy to make with any veggies you have on hand and the marinade ensures the meat is tenderized to perfection. Rice pilaf is the perfect side dish.
Pasta is a lot of people's love language (right there with ya), so why not try this baked feta and tomato pasta? It blew up on TikTok and there's a reason why. It's so easy to make with simple ingredients but the taste is out of this world.
Some other pasta dishes you might like include slow cooker pasta Fagioli, pesto chicken pasta, and slow cooker angel chicken pasta.
If your other half loves barbecue, might I suggest a Valentine's Day dinner that includes my crockpot beef ribs? The meat just falls off the bone after slow-cooking all day. Another barbecue-inspired Valentine's Day recipe I recommend is my beef brisket.
Some people like pasta, while others like pizza. Skip the takeout for a homemade pizza this Valentine's Day. We have lots of pizza-inspired Valentine's Day recipes on Southern Plate, including Cowboy BBQ chicken pizza, BBQ chicken french bread pizza, and taco pizza. Take your pick!
If you want to drop a hint this Valentine's Day, you need to make Marry Me Chicken. It got its name because it's SO good and SO delicious that when you serve it to your partner, they'll be so in love with the dish and you that they'll propose! The tender chicken breasts are baked in an unbelievable sauce flavored with seasonings, sundried tomatoes, chicken broth, cream, and freshly grated parmesan cheese.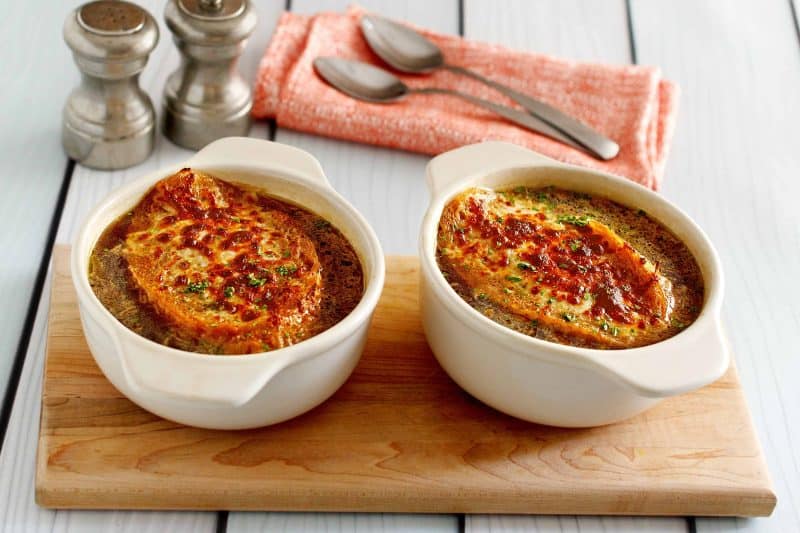 The French know romance, so take a leaf out of their book with this French onion soup recipe. It's a shortcut version that results in restaurant-style soup your significant other will adore.
Valentine's Day Desserts
This is one of the easiest Valentine's Day recipes to make for dessert this year. All you need is a store-bought brownie mix and a tub of red frosting. There are so many scrumptious brownie recipes on Southern Plate: coffee brownies, triple chocolate brownies, and peanut butter brownies included.
Strawberries are kind of synonymous with Valentine's Day, aren't they? I have lots of strawberry dessert recipes, but let's focus first on a strawberry pie. You only need 4 ingredients to make my fresh strawberry pie. Then there's strawberry ice cream pie, strawberry jello pie, and strawberry cream pie.
Let's combine brownies and pie to make a chocolate brownie pie! This recipe is made for the chocolate lover in your life. But don't worry, there are more chocolate pie recipes where this one came from as well. Take your pick from chocolate chess pie (a Southern favorite), German chocolate pie, chocolate pecan pie, and another Southern special, chocolate fried pies.
These heart-shaped sugar cookies for your Valentine are nearly too pretty to eat and perfectly soft and sweet, thanks to the royal icing.
While we're on the topic of cookies, these strawberry frosted cookies are crunchy sugar cookies with a chewy center. And that icing? Yeah, it's made from fresh strawberries!
This post features the easiest cheesecake recipe ever, plus lots of options for cheesecake toppings. But there are so many cheesecake recipes on Southern Plate. If you want to stick to the chocolate theme, try my choc chip cheesecake. If you want to try something different, check out my cherry cheesecake cookies.
You're going to love this deliciously decadent chocolate dessert! It's just like a chocolate lava cake but so much easier to make and is also known as a chocolate pudding cake because it has the same scrumptious texture. It's the perfect mouthwatering combination of moist chocolate cake with a hot chocolate fudge sauce layer. I also have a chocolate cobbler recipe with food allergy options and a cream cheese strawberry cobbler.
Now I have two recipes for cinnamon love knots: this one and the original, which includes a shortcut. Whichever recipe you choose, just make sure you make a batch this Valentine's Day. They're similar to a cinnamon roll in a heart-shaped form.
You can't talk about Valentine's Day recipes without mentioning red velvet, right? And let me tell you… there's nothing better than my red velvet cupcake recipe made from scratch with cream cheese frosting. Every bite is moist, tender, and deliciously sweet. I also have recipes for red velvet cake mix cookies, a red velvet bundt cake, and mini red velvet cakes.
These old-fashioned M&M cookies are the perfect cookie for dunkin' in milk.
Valentine's Day Drinks
Get cozy this Valentine's night with one of these Valentine's Day recipes for hot chocolate. There's stovetop hot cocoa, red velvet hot chocolate, and hot cocoa made from my homemade mix. Pair them with some hot chocolate cookies for the ultimate cozy night in.
Valentine's Day Tips
I wanted to share some fun Valentine's Day recipes with you in addition to a few decorating tips. Now, keep in mind I'm no decorator. I have not within me the slightest fiber of interior decorating skill, but kids are easy to please and I lean on that! Having issued a disclaimer as to my lack of decorating skills, here are a few suggestions to make the meal extra special.
A red tablecloth is one of the most useful tablecloths you'll ever have! Red is important here because this is why I feel it is worth the investment. A red tablecloth can be used for Valentine's Day, birthdays, the 4th of July, and even Christmas.
For decorations, I went to the Dollar Tree and spent a grand total of $5 on some decorations for our table. We got four different balloons on a stick (one for each of us) and then I trimmed the sticks to varying heights before putting them in a vase on the table. For another dollar we bought some glitter scatter hearts to sprinkle about. Pretty, festival, and cheap! In the past, we've just decorated with construction paper. Using pink and white, we make placemats for each person and then cut out little paper hearts to decorate them and the table.
Red dishes (see red tablecloth for multiple uses).
More Valentine's Day recipes:
15+ Recipes for Chocolate Lovers