Best Thousand Island Dressing
Made with mayonnaise, boiled eggs, chili sauce, pickle relish, onion, and pimento, this is the best Thousand Island dressing recipe. Fresh, creamy, and ridiculously flavorful, one bite and you'll be spoiled for life. It's that good.
In a world of ranch dressing, we are Thousand Island people, but not that bottled madness with its sharp taste. We love homemade Thousand Island dressing and I must warn you that tasting this version will officially ruin you for that sharp orange stuff they pass off as Thousand Island on the shelves. This is Thousand Island at its freshest, creamiest, most flavorful best. Trust me, one bite of this will spoil you for life.
We actually had to do some fancy footwork to get this recipe. It's originally from a steak house in my hometown of Huntsville, Alabama. My mother used to love to go there just to get to taste this and they asked for the recipe numerous times to no avail. When she found out one of her friends was dating a waitress at the steak house, she asked him if he could ask for the recipe and here we are. I guess it was the power of love – for Thousand Island salad dressing.
So, what ingredients can you expect in the best Thousand Island dressing ever? We've got creamy mayonnaise, pimentos, sweet pickle relish, minced onion, chopped hard-boiled eggs, and chili sauce. Combine those ingredients together, let them marry together in the fridge, and then enjoy it on everything! It's a little bit tangy, a little bit spicy, and a whole lot creamy.
We eat this on hamburgers, salads (of course), dip carrot and celery sticks in it, and I have been known to just go to the fridge with a spoon from time to time just to taste it!
Recipe Ingredients
Mayonnaise of your choice (make sure you use real mayonnaise, not miracle whip)
Pimentos
Sweet relish
Chili sauce
Hard-boiled eggs
Onion
How to Make The Best Thousand Island Dressing
Place all ingredients in a large bowl.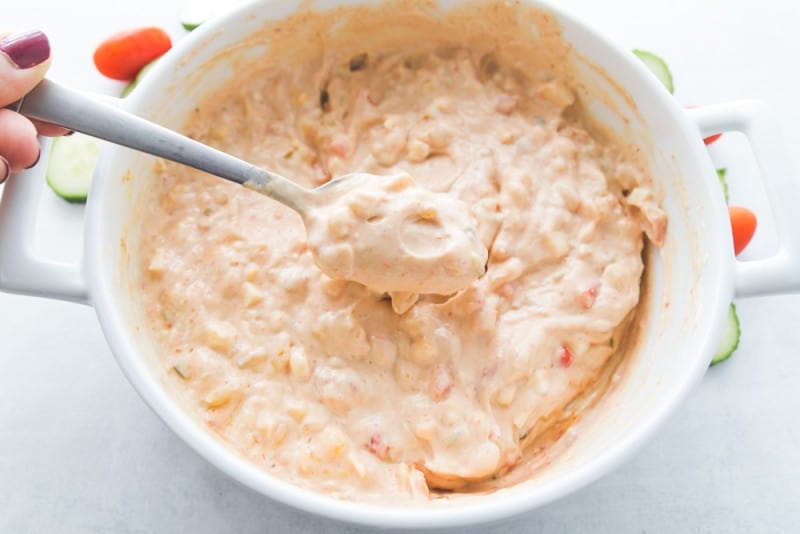 Stir until fully blended.
Cover and refrigerate for several hours or overnight to allow flavors to blend before serving.
Dive in and enjoy every fresh and delicious bite!
Storage
Because of the chopped egg, this Thousand Island dressing only lasts up to 2 days when stored in an airtight container in the fridge. However, if you remove the eggs and only stir them in before serving, the eggless dressing will last up to 10 days in the fridge.
Recipe Notes
Here are some variations to make this Thousand Island dressing recipe work for you:
Instead of chili sauce, you can use hot sauce, like sriracha.
Substitute the chili sauce for ketchup for less spice.
Use red onion instead of yellow onion.
Add a teaspoon of lemon juice, white vinegar, or apple cider vinegar for a little more tang.
Use a different kind of relish, like dill relish.
Recipe FAQs
Here are some serving suggestions:
Add it to your favorite green salad.
Use it in potato salad, egg salad, or tuna salad instead of mayonnaise.
Spread it on a sandwich, Reuben sandwich, BLT, or hot dog.
Add it as a "secret sauce" to your next burger.
Drizzle it on tacos.
What's the difference between Russian dressing and Thousand Island dressing?
While they're both creamy mayonnaise-based dressings, the key difference is that Russian dressing is made with horseradish and chili pepper so has a spicy undertone. Meanwhile, Thousand Island salad dressing is made with sweet pickle relish, giving it a sweeter undertone.
Is Big Mac sauce just Thousand Island dressing?
Now, Big Mac sauce is similar to Thousand Island dressing in that it's also made with mayonnaise and sweet relish. However, the burger sauce has a tangier flavor thanks to the inclusion of French dressing or white vinegar.
Check out these other delectable sauce and dressing recipes:
Comeback Sauce (3 Ingredients Only)
Ingredients
4

cups

mayonnaise

2-4

chopped hard-boiled eggs

3/4

cup

chili sauce

1/2

cup

pickle relish

1

tsp

minced onion

2.5

ounces

diced pimento
Instructions
Place all ingredients in a large bowl and stir until fully blended.

4 cups mayonnaise,

2-4 chopped hard-boiled eggs,

3/4 cup chili sauce,

1/2 cup pickle relish,

1 tsp minced onion,

2.5 ounces diced pimento

Cover and refrigerate for several hours or overnight.

If you'd like it a little thinner, you can add a bit of milk. Enjoy!
Nutrition
I originally posted this recipe in 2008 but am reposting it with fresh photographs.