Taco Soup (The World's Easiest Supper)
Let me introduce you to the world's easiest supper: taco soup. With ground beef, beans, corn, and seasoning, it's everything you love about tacos in soup form. Basically, if you love chili or tacos, you're bound to fall in love with this taco soup recipe.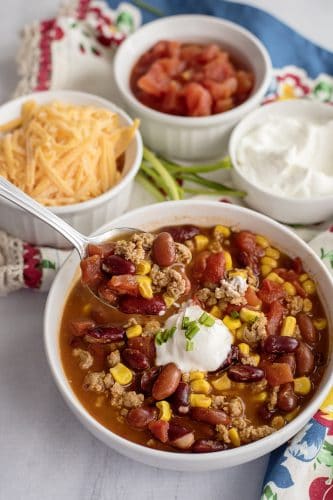 This recipe has the family seal of approval and it's ridiculously easy to make. All you have to do is grab the ingredients, dump them in a pot, bring them to a boil, and let them simmer for 15 minutes. That's it! A comforting bowl of this easy taco soup will be ready in about 30 minutes.
I always have the ingredients on hand as most of them are pantry staples. If you'd like to read how I keep shelf-stable meals on hand and organized, check out by Bags to Dishes series.
The best part is, while this is an easy taco soup recipe, it's also extremely flavorful. With taco and ranch seasoning mixed in, this soup is jam-packed with flavor the whole family will love. Customize it however you like as well. Add a dollop of sour cream and salsa, enjoy it with a side of guacamole and corn chips, or sprinkle some cheddar cheese on top.
If you're feeling inspired, here are some other taco-flavored dishes I love: sweet potato and black bean tacos, instant pot beef barbacoa tacos, taco pizza, taco tot casserole, and fiesta taco salad.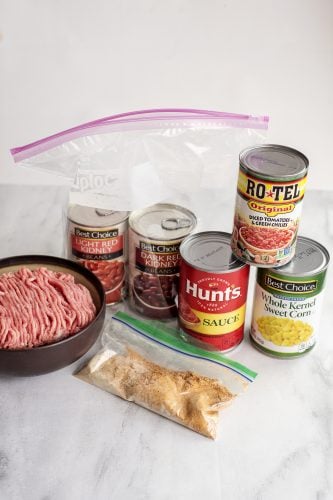 Recipe Ingredients
Kidney beans
Corn
Ro-Tel
Tomato sauce
Ranch dressing mix
Taco seasoning mix
About a pound of beef (more if you'd like).
Helpful Kitchen Tools
I cook my beef ahead of time and freeze it in individual meal-sized portions so I just grabbed a bag from the freezer, which makes this even easier! I also dehydrate ground beef from time to time to make this recipe entirely shelf-stable.
How to Make Easy Taco Soup

Are you ready for the instructions?
Dump all the ingredients in a pot. Don't even drain your cans, just dump it all.
Add a cup and a half of water and stir.
Bring it to a boil then lower the heat and simmer for fifteen minutes. Serve!
Looking for a swap for red meat? Swap the ground beef for ground turkey or rotisserie chicken!
I like to eat mine with sour cream and cheese.
You can use your favorite add-ins or just eat it on its own.
This soup is delicious!!!
Storage
Store your soup leftovers in an airtight container in the fridge for up to three days and in the freezer for up to three months. When it's time to serve, simply reheat either in the microwave or on the stovetop. I prefer glass leftover containers so that the chili doesn't stain. 🙂
Recipe Notes
Prefer to make your own taco seasoning? For homemade taco seasoning, you'll need a teaspoon each of garlic powder, onion powder, and cayenne pepper, as well as two teaspoons each of dried oregano, paprika, and cumin, and a pink of salt and black pepper.
For more flavor, also add in a can of chopped green chiles.

If you prefer different

, you can substitute the

for either

or black beans (or use a combination).
Recipe FAQs
What do you serve with taco soup?
Serve your soup with a slice of bread or tortilla chips. Alternatively, you can set out a tray of toppings and let everyone pick their own. Include toppings like diced avocado, sour cream, salsa, shredded cheddar cheese, cilantro, green onion, diced tomato, diced bell pepper, lime wedges, and jalapenos. Another option is to serve your soup as an appetizer before a main like chicken fajitas.
Can I substitute the meat in this taco soup?
Yes, you can swap the ground beef for ground turkey, chicken, or pork if you like. You could also omit the meat completely and use a can of lentils or an extra can of beans to make this a vegetarian taco soup recipe.
Can I make this soup in the crock pot?
Yes, it will just take a lot longer. Brown your beef and onion first and then add all ingredients to the slow cooker and cook on low for five to six hours. I love this slow cooker because I can transport it to family functions with its latching lid, it's super easy to throw in the dishwasher, and the meat temp probe is so handy for cookin' up a Sunday roast!
Craving a comforting bowl of soup? Check out these other soup recipes:
How To Make Chicken Noodle Soup
Tomato Basil Soup Recipe (Quick, Easy and Delicious)
Italian Sausage Soup With Gluten-Free Sausage
Cauliflower Soup Recipe With Cheese
French Onion Soup (Restaurant-Style Made Easy)
Loaded Potato Soup Recipe (Rich and Flavorful)
Ingredients
1

lb

ground beef

1

large chopped onion

cooked with beef

2

cans

kidney beans

1

can

corn

1

can

Ro-Tel tomatoes (15-ounce)

1

can

tomato sauce (15-ounce)

1

packet

taco seasoning mix

1

packet

ranch dressing mix

1 1/2

cups

water
Instructions
If needed, brown the ground beef and onion in a skillet.

1 lb ground beef,

1 large chopped onion

Combine all ingredients into a large pot, bring to a boil, and then simmer for 15 minutes.

1 lb ground beef,

1 large chopped onion,

2 cans kidney beans,

1 can corn,

1 can Ro-Tel tomatoes (15-ounce),

1 can tomato sauce (15-ounce),

1 packet taco seasoning mix,

1 packet ranch dressing mix,

1 1/2 cups water

Serve with the toppings of your choice.
Video
Nutrition