The Best Roasted Asparagus Seasoning
Roasted asparagus is the perfect spring side dish, as long as it features the best asparagus seasoning. This post features lots of options, but my favorite is za'atar, a uniquely earthy herb blend.
Asparagus has become my husband's favorite vegetable as of late. He loves it so much that he has actually taken the time to learn its name instead of calling it "that short spiky stuff I like", so y'all know this is getting serious! As part of my Passover menu this year, we'll be having roasted asparagus as a side dish with za'atar. What is za'atar you ask? Well, it's my new favorite asparagus seasoning, I'll tell you that much!
Za'atar is a Middle Eastern spice blend of dried herbs with a kind of woodsy earthy flavor and it's delicious on just about anything you put it on. I like to give asparagus a quick toss in good olive oil and then sprinkle it with za'atar seasoning before roasting. When we're done, a quick squeeze of lemon juice brings the whole dish together and makes it sing!
If you've never seen za'atar, you're not alone. I got some in a recipe kit and had no idea what it was but once I gave it a shot I knew I had to have more. It was pretty easy to find in the spice aisle at my local Kroger and I think Publix has it, too, but I haven't seen it at Walmart. If you want to cut the chase out of your life, you can always order it from Amazon. This link will take you to a pretty good size jar for about $10, but that will last you a very long time and in my opinion, based on the flavor it gives you, it's totally worth it.
Now, if za'atar isn't your thing, don't fret! I've included other roasted asparagus seasoning options below. But I hope you give asparagus a go soon. It really is such a delicious side dish. You may also want to check out my recipe for grilled asparagus.
Recipe Ingredients
Fresh asparagus
Za'atar seasoning
Salt
Olive oil
Lemon
How to Make Roasted Asparagus with Za'atar Seasoning
First, prep the asparagus. You'll want to break the woody ends off of the stalks. To do this, just hold the asparagus in your hand and press along the stalk end until you find where it snaps easily. This is usually a couple of inches from the bottom. Throw these away and arrange your asparagus on a baking sheet.
Squeeze about half of your lemon over the asparagus stalks. Drizzle with olive oil and then sprinkle with kosher salt and za'atar seasoning.
Note: You don't have to use kosher salt, it's just my favorite for roasting veggies because I love the flavor of the larger grains. Pink Himalayan salt is wonderful as well but table salt will be just fine if that is what you have or prefer.
Place this in a 400-degree oven and roast asparagus for about 30 minutes, stirring once. Remove from the oven and squeeze the remaining lemon over the roasted asparagus before serving. Enjoy!
Storage
Store leftovers in an airtight container in the fridge for up to 4 days. Gently reheat in the oven or air fryer. I don't recommend freezing oven-roasted asparagus as it will become mushy.
Asparagus Seasoning Ideas
Check out these other asparagus seasoning options:
Go simple with 1 teaspoon of minced garlic and 1 teaspoon of Italian seasoning.
Add heat with 1/4 teaspoon each of garlic powder, onion powder, and cayenne.
Another spicy option is simply sprinkling the asparagus stalks with crushed red pepper flakes.
Drizzle with balsamic vinegar.
Season asparagus with 1/4 cup of breadcrumbs, 3 tablespoons of grated parmesan cheese, and 2 tablespoons of garlic powder.
Substitute the za'atar asparagus seasoning with ranch seasoning, lemon pepper seasoning, Cajun seasoning, or Everything But the Bagel seasoning.
Recipe Notes
While this roasted asparagus recipe is a great side dish, it can also be a good pizza topping, tossed in a salad, or added to your next sandwich.
Add 1 cup of sliced mushrooms to the baking sheet alongside the asparagus.
While there are lots of asparagus seasoning options, you can also top your roasted asparagus right before serving with a few delicious things too, like cooked and crumbled bacon, parmesan cheese or feta cheese, chopped fresh parsley or mint, and toasted pine nuts or sliced almonds.
Recipe FAQs
What is za'atar?
Za'atar is a Middle Eastern spice blend that has a multitude of uses. Sprinkle it over hummus, your favorite grilled vegetables like eggplant or zucchini, or rub it on chicken or beef. Za'atar includes a flavorful combination of herbs and spices like oregano or thyme, cumin, coriander, sesame seeds, salt, and sumac (most important of all). Here's how to make homemade za'atar seasoning.
How do you choose the best asparagus?
I try to look for the slimmer asparagus with the smaller diameter stalks because those are more tender and a little bit sweeter. Bigger asparagus is still good, it just depends on what you like best. Thick asparagus spears are a bit heartier.
What do you serve with roasted asparagus?
Roasted asparagus and chicken go together like peanut butter and jelly! Serve your perfectly-seasoned asparagus as a side dish alongside roasted chicken, Greek chicken and potatoes, or broccoli and cheese stuffed chicken breast. It also tastes great with pork chops!
Check out these other sensational baked side dishes:
Oven Roasted Butter & Herb Corn
Oven-Baked Mac and Cheese (Southern Plate Favorite)
Baked Tomatoes With Mozzarella and Basil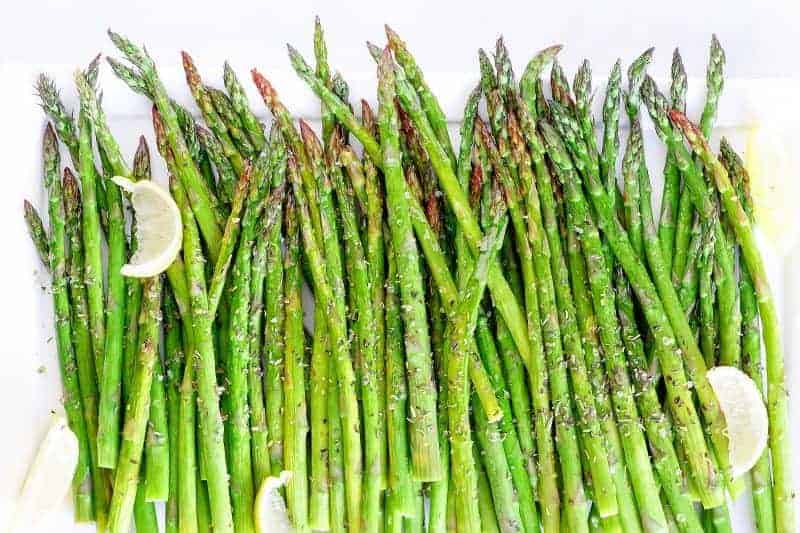 Ingredients
1

bunch

asparagus

1

tablespoon

za'atar seasoning

1

teaspoon

kosher salt

3-5

tablespoons

olive oil

1

lemon

cut into four wedges
Instructions
Break ends off the asparagus and arrange the spears on a small baking sheet. Squeeze 1/2 lemon over the stalks, drizzle with olive oil, and toss with hands to coat. Sprinkle kosher salt and za'atar seasoning over the top.

1 bunch asparagus,

1 tablespoon za'atar seasoning,

1 teaspoon kosher salt,

3-5 tablespoons olive oil,

1 lemon

Place in a 400-degree oven for about 30 minutes, stirring once in between, until done to your liking. Squeeze the remaining lemon over the roasted asparagus before serving.
Nutrition
Click here to get my soft unleavened bread recipe with lots of delicious options (including cinnamon sticks!).
Don't let yesterday take up too much of today.
~Will Rogers
This recipe is featured on Meal Plan Monday and The Weekend Potluck!