How to Cook with Shirataki Noodles (Zero Carb, Diabetic Friendly)
These Shirataki Noodles have a wee bit more of a chew to them but if you have cut pasta out of your life or want to, this are an EXCELLENT substitution.
Before we get started you need to know where I'm coming from when I tell you that I am in mad, passionate, love with these Shirataki noodles.
I haven't had pasta, rice, bread, or anything made with flour in 8 weeks. Okay I did judge the cornbread festival in April but that was one day and I took the smallest bites I could. Other that that, no bread. no pasta, no rice.
This may sound severe, I know it would have sounded impossible to me if you had of told me two months ago, but I can honestly say that I don't miss bread. After the first couple of days avoiding it, I quit having cravings of any kind, quit feeling actual hunger, and started having an energy level that didn't dip at all during the day.
But there is one thing I started missing recently and that is pasta. You see, I LOVE Spaghetti. I LOVE stir fry noodles. I LOVE a big old pasta meal.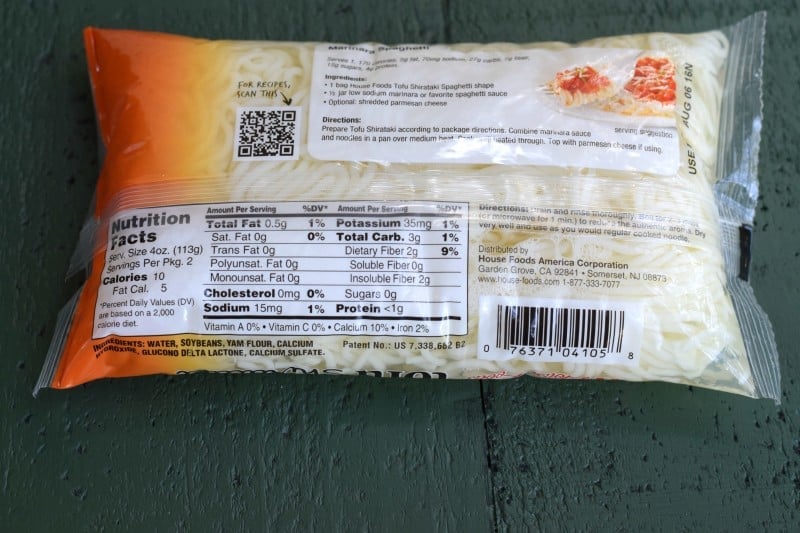 So I went on a search for low carb pasta
And I got lucky at my local Kroger. Okay, I first got "lucky" at Wal Mart but these noodles (different brand) were a bit $$ so I declined the opportunity to bring them home and then went to Kroger where I found them for a lot less and made them mine. At my Kroger, they were in the cooler case (where the milk, yogurt, and such is) over in the health foods section of the store.
Check out the nutritionals on these things!
The entire package is 20 calories. The carbs, if you are counting net, are actually negative. When making a BIG plate of spaghetti I use a package for me and a package for Ricky. When making stir fry I just use one package.
Now, here's how to prepare them…
that is the trick that keeps folks from using these the most, we just don't know what to do with them. So today I'm sharing with you how I prepare mine, and it's easy as can be but there are a few tips you need to know about.
The MOST IMPORTANT heads up:
These noodles, when you open the package, stink. Now this has no effect on the flavor but the water they are in smells a bit like sulfur to me. I am warning you ahead of time because if you have any lightweights in your house who are already complaining about eating "weird" noodles, you don't want them around until after you have rinsed the noodles because they will use this as their reason not to try them. Hear the struggle behind my words and know that I live with this problem, too. Some people are so 2016 when it comes to eating but I was raised 1970's = sit down, eat, say thank you. I have to try to work up my tolerance and grace before dealing with 2016 eating mindsets because…
You will either find a way or you will find an excuse.
So make sure the find-an-excuse people are out of the room while the find-a-way people rinse the noodles.
After I rinse them, I place the noodles into a large skillet over medium or medium high heat and sauté them for a few minutes to dry them out some. This is going to be really weird because they don't stick or anything so you don't need to spray your pan with anything first – and that just felt odd to me. I just use some tongs to move them around from time to time while the water cooks off. As soon as you're done with this you're ready to go! How do I know I'm done with it, Christy? Well, you get them good and hot, stir them around for a few minutes, and when you're tired of fooling with it, you're done.
If I am stir frying, at this point I just add some veggies and cooked meat to the skillet along with some soy sauce. If I'm having spaghetti, I'm ready to top with sauce!
Rather than use store bought sauce, I whipped this up from canned tomato sauce to save carbs. It cooks in about ten minutes. My recipe is below.
This was one satisfying plate of spaghetti!
What is the texture of these noodles?
I would say this is more of a rice noodle texture than a pasta texture. You know how you can bite into pasta and it just kinda gives way? These have a wee bit more of a chew to them but if you have cut pasta out of your life or want to, this is an EXCELLENT, life enhancing, substitution. 🙂 Please note that I am referring to this particular brand of noodles, exactly as shown. I have not tried other brands and don't intend to do so as long as I can get these – because they are awesome!
If you don't know where you can get them locally, I did find them on Amazon for a competitive price, but you have to purchase 10 bags (I may or may not have ten or fifteen bags in my refrigerator right now, I'm not telling!). With shipping and all, right now, the price equals about $2.60 per bag. Click here to see those.
Ingredients
1

bag

Shirataki noodles

28

ounce

tomato sauce

2 cans of 14 oz

1

tablespoon

dried Italian seasoning

1/2

teaspoon

dried Basil

1

teaspoon

minced garlic

1-2

cups

cooked ground beef
Instructions
Place all ingredients in sauce pot and stir, over medium heat, to bring just to a boil. Immediately reduce heat and simmer until thickened to your liking.

The longer you cook it, the better it will be.
Notes
If I want my sauce thickened much quick, I just make me a five minute spaghetti sauce by following this recipe but adding a pinch of Glucomannan before I bring it to a boil. This is a miracle thickener for sauces and such. If you have never used it before, trust me and start out with just a pinch!
Note that this sauce has no sugar in it and just about all store bought sauces do. That is why I add the extra basil, because it is more of a sweet herb to me. If you would like, you can add a tablespoon of Splenda or sugar to this.
Nutrition
Calories:
188
kcal
|
Carbohydrates:
12
g
|
Protein:
17
g
|
Fat:
9
g
|
Saturated Fat:
3
g
|
Trans Fat:
1
g
|
Cholesterol:
51
mg
|
Fiber:
4
g
|
Sugar:
8
g