From slow cooker recipes for the main dish to easy appetizer recipes you can take tailgating, here's a comprehensive list of over 40 game day recipes to make your football season enjoyable and delicious!
Getting ready for a big game this weekend? Or has Super Bowl Sunday finally arrived? Whether you're tailgating at the game or enjoying it with family and friends in the comfort of your own home, football season is food season here in the South and no one wants to miss out on the fun by being in their kitchen!
Below you'll find a collection of quick and easy game day recipes. I've separated them into sections, depending on what you're feeling. We've got mains, side dishes/appetizers, desserts, and drinks. All the food groups are handled, but we all know game day appetizers are the most popular.
Click on the corresponding link to visit each individual blog post, where you'll find a full photo tutorial on how to make it as well as a print-friendly button so you print out your favorites and take them with you.
Before we dive into our selection of Southern game day recipes, check out my top game day tips for the most enjoyable day ever.
Game Day Tips
My number one entertaining tip is to always cook as much as you can ahead of time. Everyone wants to enjoy the big game, so planning ahead can keep you out of the kitchen and with your guests.
Slow cookers are your best friend, as you'll see from the many slow cooker recipes featured below. Slow cooking makes tender and juicy meat, perfect for sandwiches and BBQ plates. Many newer models are also easily portable.
When it comes to desserts, think "grab and go", like cookies, bar cookies, pound cakes, and brownies. They are sturdy, travel well, and they're easy to walk around with at tailgating events.
Game Day Recipes
Mains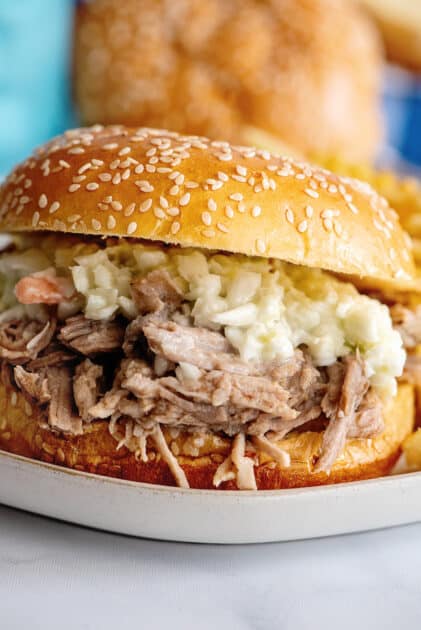 Starting strong with this easy crock pot pulled pork recipe, one of the most popular main meals during game day. It's made with surprising ingredients that combine to deliver juicy flavorful meat for pulled pork sandwiches.
Every Southerner has a signature chili recipe and this crock pot chili, loaded with meat, beans, and flavorful seasonings, is mine. Here are even more chili recipes: white bean chili, hot dog chili, and my one skillet chili bake.
This slow-roasted beef brisket results in juicy, tender strips of beef that melt in your mouth. Pair it with some mac and cheese for the ultimate BBQ main meal this game day.
Learn how easy it is to make beef ribs in the slow cooker. Told ya, crock pot recipes are the way to go and there are so many to choose from on Southern Plate.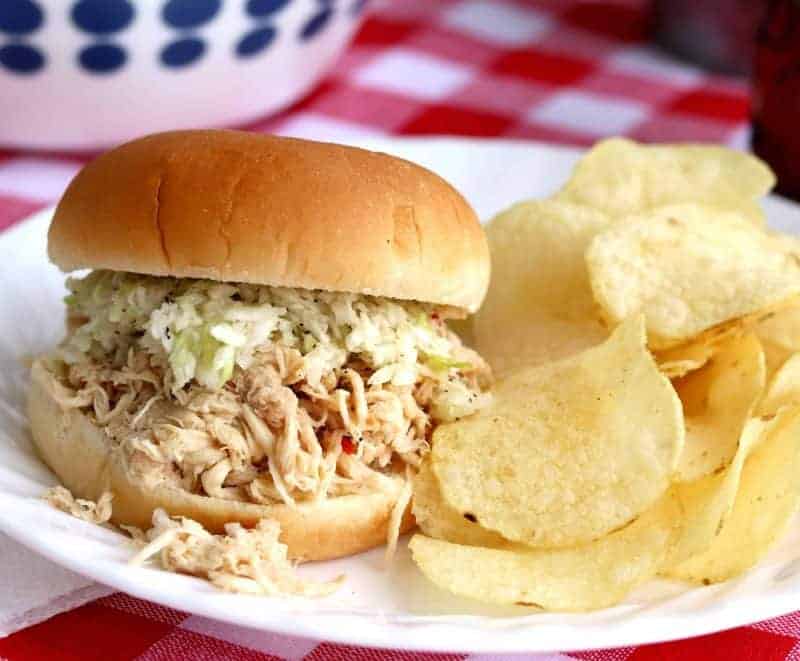 This is a chicken version of the aforementioned pulled pork recipe that can be found at just about any BBQ joint in North Alabama.
Quick, easy, and deliciously tender and juicy, my family and I cannot get enough of this French dip sandwich recipe. Click on the link above to discover what the surprising twist is.
My baked Italian turkey subs recipe is a total crowd-pleaser and a must-make game day recipe. I mean, who can say no to a baked crusty bread sandwich overloaded with sharp cheddar cheese, mayo, smoked turkey, onion, and turkey pepperoni? The answer? Not me!
Loaded with lots of melted cheese, cooked chicken, fresh herbs, and our delicious homemade barbecue pizza sauce, this Southern barbecue chicken pizza beats takeout any day! Pizza is another quick and easy recipe to make for your game day party and of course, we have more than one option on Southern Plate. There's also cowboy BBQ chicken pizza, BBQ chicken french bread pizza, and even homemade air fryer pizza rolls.
Game days and tacos (or Mexican food in general) go hand in hand, right? These instant pot beef barbacoa tacos are a must-make… trust me!
Appetizers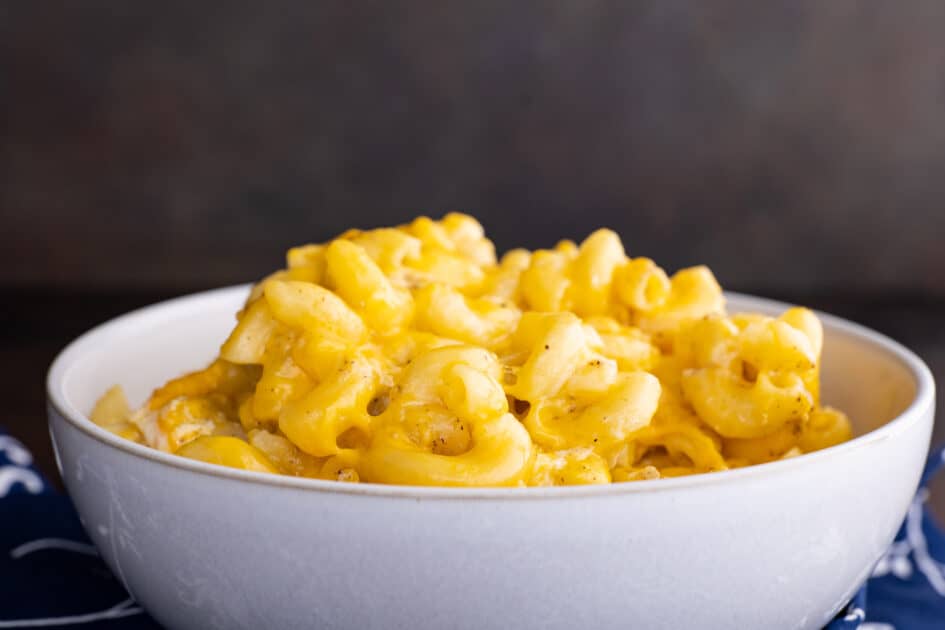 Would it even be legal to do a post on Southern game day recipes without mentioning mac and cheese? This oven-baked mac and cheese recipe is a favorite among Southern Plate readers and it's easy to see why. You need just a short list of ingredients to make this easy baked macaroni and cheese dish the whole family will love.
This baked easy buffalo chicken dip recipe features everything you love about buffalo chicken wings (including all the cheesy goodness you could possibly want), without the bones. It's still just as tasty and even more delicious. What more could you want on game day?
Did someone ask for a quick game day dip recipe? My 4-ingredient baked onion dip recipe, with flavorful bites of sweet Vidalia onion, takes cheesy to a whole new level. Plus, you can prepare it ahead of time and just bake it before kick-off.

Sliders may just be the perfect game day appetizer. However, these aren't any ordinary ham and Swiss sliders, as they're Hawaiian roll sliders covered in a delicious and flavorful buttery mustard sauce. One bite and you'll know exactly what I'm talking about! For more slider recipes, check out my country cornbread sliders for sliders with a Southern twist!
If waffles and onion rings had a baby, it would be this deliciously easy keto chaffle recipe. Crunchy, sweet, and cheesy, what's not to love?
You didn't think I was going to skip game day wings, did you? Doused in hot sauce, BBQ sauce, and creole seasoning, these Southern-style BBQ air fryer chicken wings are the definition of DEEElicious.
Yep, another buffalo chicken recipe. What can I say, it's perfect for football season! Loaded with melted cheese, tender chicken, and homemade buffalo sauce, this quick and easy buffalo chicken quesadilla recipe is a great game-day appetizer or lunch treat.
These freezer-friendly loaded twice-baked potatoes include crispy potato skins overflowing with creamy mashed potato, crumbly bacon bits, and lots of melted cheese. Plus, you can make them ahead of time and just reheat them on the day. If you like this recipe, you might also like loaded sweet potato skins and loaded sweet potatoes with marshmallows.
You don't have to wait until the next State Fair to enjoy a corn dog with this easy corn dogs recipe. In just 15 minutes you'll be enjoying hot dogs wrapped in delicious cornbread batter and fried until golden.
Make my Grandmama proud by making this scrumptious Tex-Mex dip this game day. Bonus: you can make it ahead of time and store it in the fridge until you're ready to devour it!
Warm, soft, chewy, and with that perfect kick of salt, every bite of these homemade pretzels feels like heaven. The only thing better is when you dip it in a scrumptious cheese sauce made from scratch.
This is probably one of the easiest game day recipes you could whip up. Made with just two ingredients, these flavorful sausage pinwheels are perfect for breakfast, game day, appetizers, or just a good hearty snack.
Okay, I couldn't resist! Here's another 2-ingredient game day appetizer for you. You're welcome 😉. Little smokies pigs in a blanket wrapped in flaky crescent rolls is the perfect Southern comfort food dish to enjoy this football season.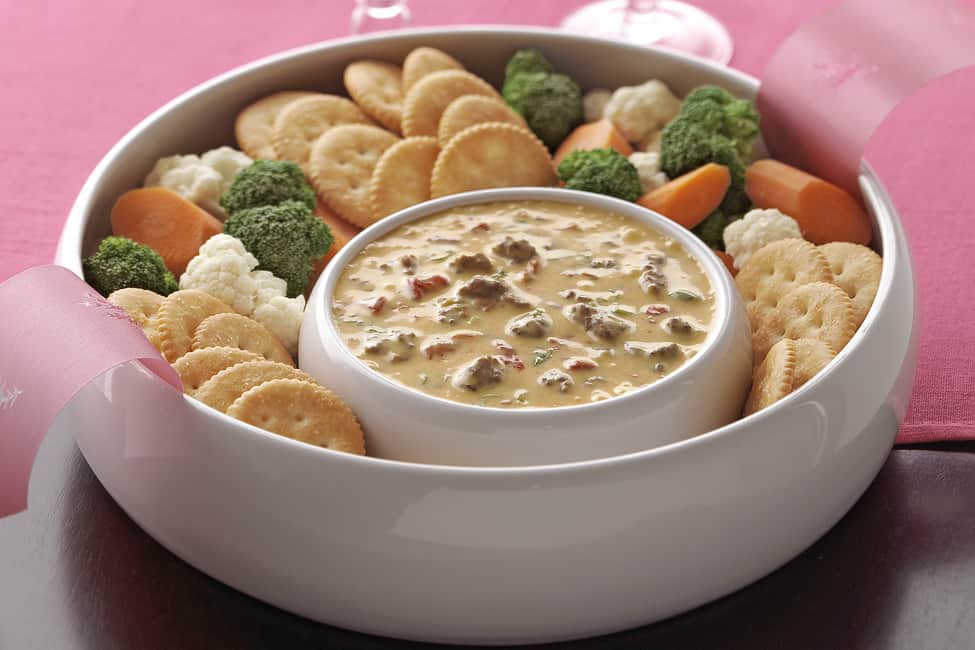 Everyone knows that no game day spread is complete without an ooey-gooey cheesy snack and this cheeseburger dip with two different types of cheese, ground beef, and green chiles delivers on this front.
Desserts
Snickerdoodles are a classic cookie recipe that lots of people will enjoy. And if you've ever wondered how to make snickerdoodle cookies that are soft, chewy, and cinnamon-sweet, you need this easy snickerdoodle recipe in your life!
I mean, seeing as fall is football season, it would be rude not to include at least one pecan dessert recipe. Plus, my pecan bars recipe is like pecan pie in bar form. It includes a scrumptious shortbread crust topped with a buttery honey-flavored filling overloaded with pecans.
Made famous by my Aunt Sue, here's an easy pound cake recipe that's guaranteed to deliver a deliciously moist and sweet vanilla pound cake.
Make a chocolate lover's dream come true this game day with these three-layer triple chocolate brownies. Made with chocolate cake mix, chocolate chips, and chocolate pudding mix, they're ultra-rich, decadent, and deliciously fudgy.
Drinks
No matter the season, sweet tea is always the beverage of choice in the South.
A Southern staple alongside iced tea, all you need is three ingredients (water, sugar, and lemon juice) to make this refreshingly sweet old-fashioned lemonade recipe.
Bursting with fruit flavors thanks to the pineapple, orange, and lemon juice, this sparkling vintage Hawaiian iced tea recipe is such a refreshing non-alcoholic punch.
Feeling gratitude and not expressing it
is like wrapping a present and not giving it.
— William Arthur Ward