With tender chicken, broccoli, cheddar cheese, and crispy bread crumbs, this creamy chicken divan casserole is a fancy name for a good down-home casserole.
If you're from the South, you grew up with your share of casseroles. Made with cream of chicken soup or cream of mushroom soup, is there any other kind of casserole? Now, when I first tried chicken divan I was convinced this was a Southern recipe but lo and behold, it is traced back to New York City! According to good ole Wikipedia 'divan' means 'meeting place' in French. Well isn't that sweet!
Speaking of sweet, this easy chicken divan recipe is simply divine. It's extra creamy thanks to the mayonnaise and cream of chicken soup. But then we go and load it with chicken, cheese, broccoli, and some bread crumbs on top. Who can say no to a creamy, cheesy, and scrumptious concoction like this chicken broccoli casserole? Not me! Serve it over rice and enjoy a heavenly hearty meal.

Recipe Ingredients
Chicken
Cream of chicken soup
Mayo (you can use sour cream and milk if you prefer a tangy flavor)
Lemon juice
Broccoli
Shredded cheddar cheese
Butter
Bread crumbs or panko breadcrumbs (Japanese bread crumbs are worth it if you can find 'em)
How to Make My Chicken Divan Casserole Recipe
The first thing we do is shred the cooked chicken.
If you want an incredibly easy way to shred meat you can find that right HERE.
Then mix the cream of chicken soup with the mayo (or sour cream and milk) and lemon juice.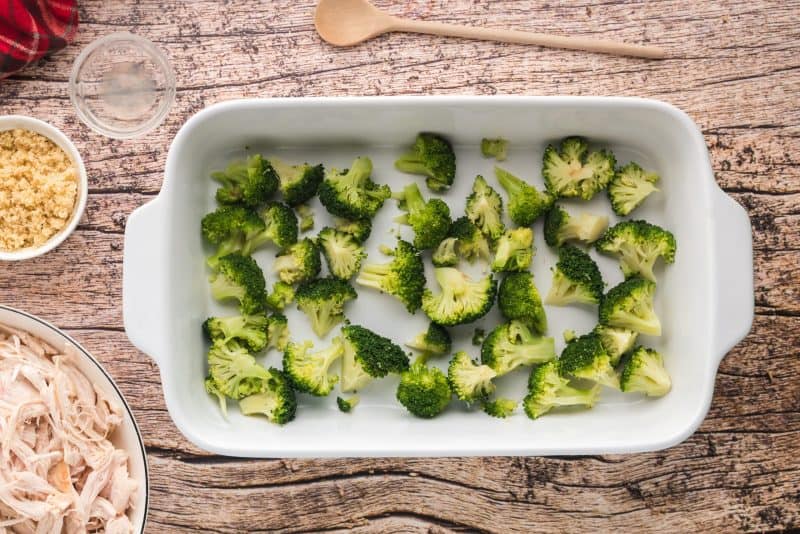 The broccoli layer goes first in the casserole dish.
Pile that shredded chicken evenly on top of the broccoli florets.
Spread the creamy sauce next over that chicken layer.
Sprinkle with shredded cheddar cheese and bread crumbs mixed with butter.
Bake at 350 for 25 minutes, covered in foil, and then for 5 minutes uncovered.
And voila: your chicken divan casserole is ready to serve to your hungry family.
I serve mine with brown rice or cauliflower rice cooked in chicken broth.
It's a cheesy, yummy meal. Comfort food at its best.
Storage
Store casserole leftovers in an airtight container in the fridge for up to 3 days. Reheat in the oven, microwave, or the air fryer.
You can also freeze leftovers for up to 3 months. Thaw in the fridge before reheating as mentioned above.
Recipe Notes
If you want to make homemade cream of chicken soup

rather than use

, you can find my recipe here.

You can use either frozen broccoli or fresh broccoli florets. Personally, for this casserole, I used fresh broccoli and steamed it lightly first.

Instead of chicken breast, you can use rotisserie chicken. You can also use leftover turkey if you make it during the holidays.
Substitute the bread crumbs for 1/2-cup of crushed Ritz crackers or crushed potato chips.
If you like, garnish with chopped fresh parsley before serving.
Substitute the broccoli for one of these vegetables or use a combination: cauliflower, peas, green beans, carrots, corn, and mushrooms.
Recipe FAQs
Should you have soft or crunchy broccoli florets in your chicken divan casserole?
This is totally up to personal preference. Some people like their broccoli soft and others like a little texture and crunch. If you want the broccoli soft then steam for 3-5 minutes before adding it to the pan. However, if you like a little more texture and crunch then just throw those little green beauties in the pan raw.
What do you serve with chicken divan?
I like to serve my chicken divan with rice. But you might like to serve it with a side salad, your favorite pasta, homemade buttermilk biscuits, mashed potato, or some homemade rolls.
Can I make chicken divan ahead of time?
Yes, you can make this chicken divan casserole up to 3 days in advance. Store the covered baked casserole in the fridge and then quickly reheat before serving. Alternatively, you can store the unbaked casserole in the fridge and bake it when ready. You'll need to add about 10 minutes to the cooking time.
You may also like these casserole recipes:
Cheesy Chicken and Broccoli Rice Casserole
Cracker Barrel Cheesy Hash Brown Casserole
Grandma's Sweet Potato Casserole
Ingredients
1

packet

frozen broccoli florets

3

cooked and shredded chicken breasts

1

can

cream of chicken soup

1/2

cup

mayo

1/2

tsp

lemon juice

1/2

cup

shredded cheddar cheese

1/4

cup

bread crumbs

soaked in 1 tablespoon of melted butter (I used Italian breadcrumbs)
Instructions
Steam broccoli and drain it, or if you enjoy some crunchy broccoli just wash it and add the raw broccoli florets directly to the casserole dish. Place the shredded chicken on top.

1 packet frozen broccoli florets,

3 cooked and shredded chicken breasts

Mix together the soup, mayo, and lemon juice. Pour this soup mixture over the chicken in the baking dish and sprinkle it with the shredded cheese. Combine the bread crumbs and butter and sprinkle this over the top of the casserole.

1 can cream of chicken soup,

1/2 cup mayo,

1/2 tsp lemon juice,

1/2 cup shredded cheddar cheese,

1/4 cup bread crumbs

Bake at 350 degrees for 25 minutes covered in foil and 5 minutes uncovered.
Nutrition
Kind words can be short and easy to speak but their echoes are truly endless.
Mother Teresa