Slow Cooker Turkey Breast
Incredibly tender and moist turkey is easy as can be with the help of your slow cooker (also known as crock pot)! Just toss it in and set the table 🙂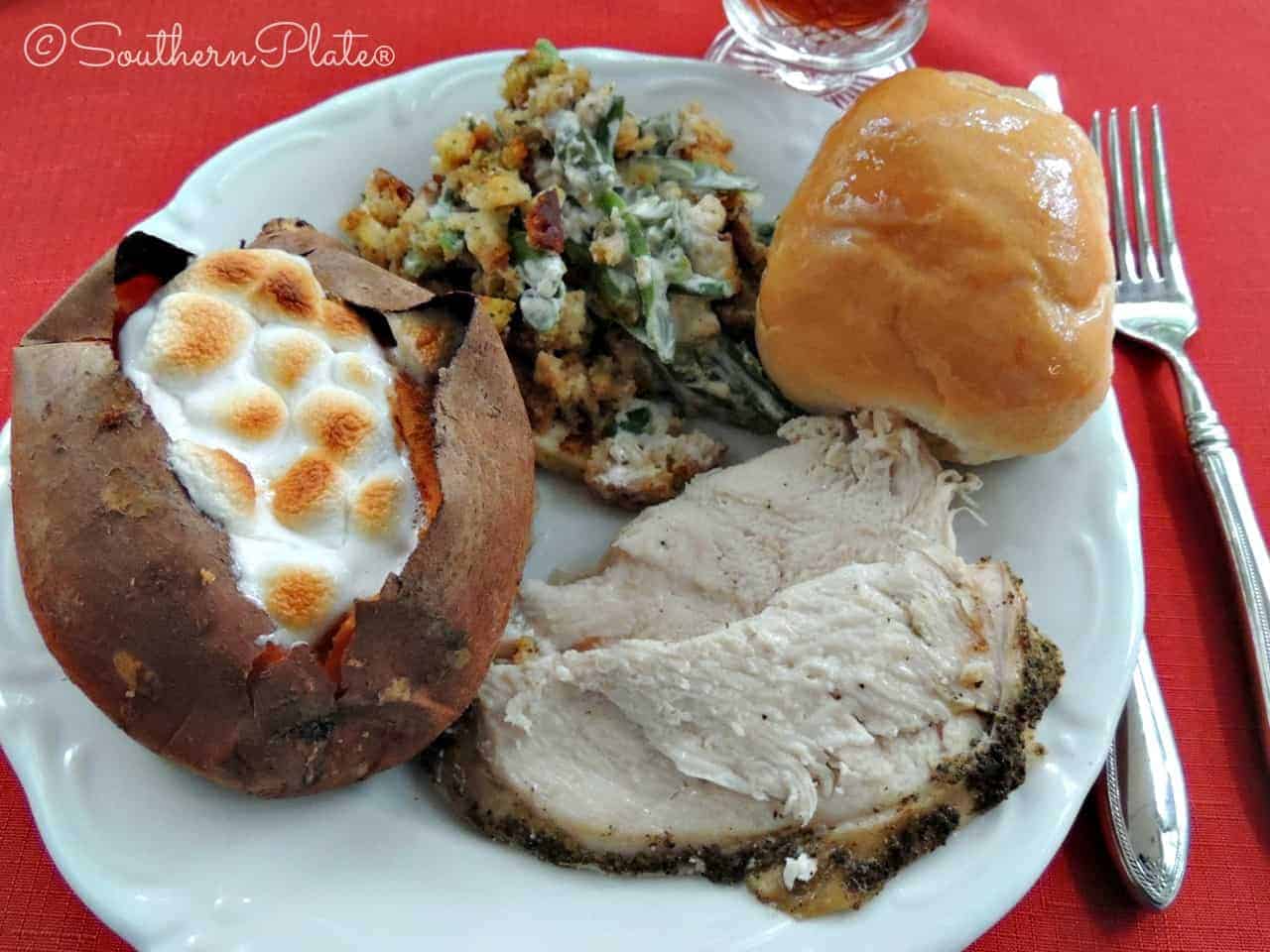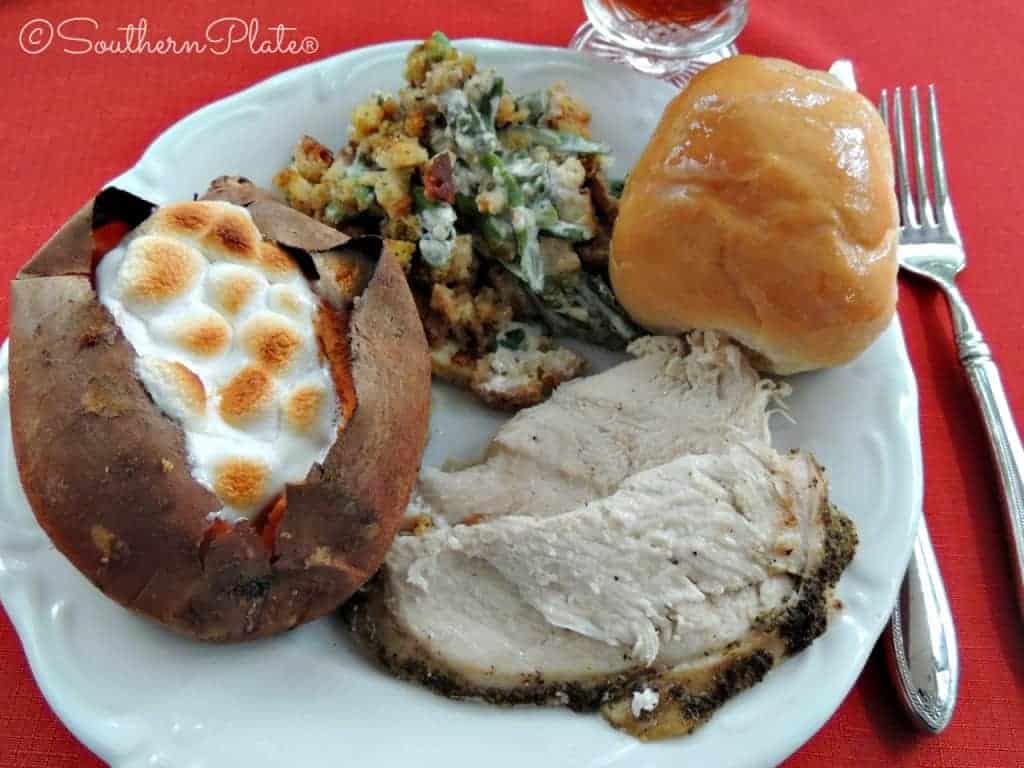 Click here to get the recipe for Perfect Baked Sweet Potatoes
It seems odd to be talking about Thanksgiving already, but the calendar tells me it is only weeks away. The years seem to speed up the older we get, and I'm just thankful to have the good sense to appreciate each day no matter how quickly it passes me by.
For some people, the holidays can have a little bit of unnecessary drama – I've never had to deal with this first hand thanks to my mother, but I have heard of families where parents of one half of a couple get upset if they don't come to their house for Thanksgiving and parents of the other half get their toes crooked if they don't go to their house as well.
It's like folks decide to treat couples like wishbones and pull them in both directions at once. Crazy.
My mama, being the sensible sort to works to make life easier for others whenever she can, has our family thanksgiving on the Sunday before the actual holiday. This frees us up to visit family or have a Thanksgiving day together out and about. They, in turn have their holiday early and then head off to the Smoky Mountains for a little vacation. This has always served as a wonderful way to keep Thanksgiving relaxed so no one had to rush around and try to get to two houses in one day.
I like to cook something special just for the four of us on the actual holiday though, but an entire turkey is an awful lot of meat for four people, so I make a condensed Thanksgiving meal instead – I call it my little Thanksgiving and this is the turkey I often make.
This is really an easy recipe to modify to your own tastes. Use the seasonings I use or use whatever blend you like. Some good ideas are basil, thyme, rosemary, or even oregano. If you don't like honey mustard, don't fret over seeing it here. You can't really taste it, but it does serve as a great coating to help the herbs stay put. Still, if you just can't bear the thought of honey mustard, substitute a little maple syrup instead.
To make this recipe like I do, you'll need: a Chicken Bouillon cube (or chicken broth), honey mustard, kosher salt, pepper, and some poultry seasoning.
But really, you don't have to make this exactly like I do. You can just use the general cooking guidelines and adapt the seasoning til the cows come home! Or turkeys. But I doubt turkeys will be coming to your house willingly once they get a whiff of what you're cooking so we'll go back to the initial cow reference…
You're also going to need a bone in turkey breast, about 5-7 pounds. Any bigger and it may not fit in your slow cooker.
I have no problem fitting this one but you want to eyeball your slow cooker beforehand just in case. And remember, I'm using a 6 quart oblong slow cooker. It's a Hamilton Beach one and I wubs it 🙂
Dissolve chicken bouillon cube in one cup of water.
If you are using chicken broth, just measure out a cup.
I like to keep bouillon cubes on hand because they are so economical and easy to store. Right now I have a container of 277 cubes that are taking up the amount of space of one can of chicken broth and probably cost me about what four cans of broth would make. Each cube makes one cup when dissolved in water. I buy big things of them at Sam's Club and use them as a replacement for broth in recipes. I also crush them and sprinkle it into casseroles sometimes as I stir them together for a little flavor boost and if you want an extra rich broth in your stew, just toss in a few bouillon cubes towards the end of cooking and let them dissolve in there.
Place turkey in slow cooker.
Pour chicken broth into bottom of slow cooker.
Place all seasonings in a little bowl and stir together
Spread honey mustard over top of turkey breast.
I just used the back of a spoon for this to avoid digging around for a basting brush.
Sprinkle seasonings over top of turkey.
You'll notice my turkey breast is laying on it's side here. You can try to get it to stand up so the entire breast it up but mine usually won't do that. I like it this way because one side of the turkey breast has all of the yummy seasonings on it and the other still has the wonderful flavor but not the evidence of herbs. In other words – it's kid friendly 🙂 If you want though, you can raise it up and sprinkle both sides. Totally up to you. It's moist, tender, and delicious either way ya go.
Cover and bake on high for 4 hours or low, 7-8 hours.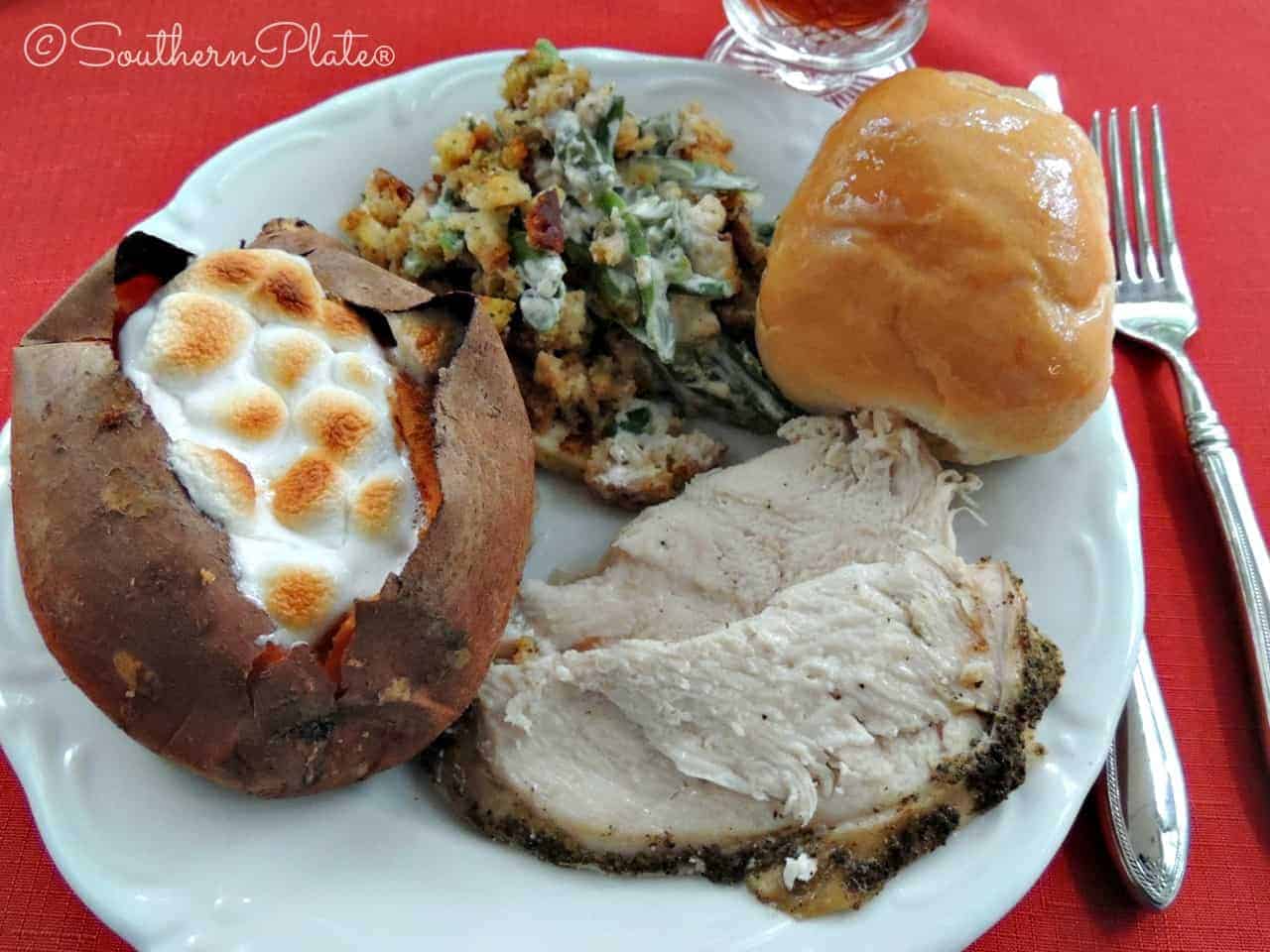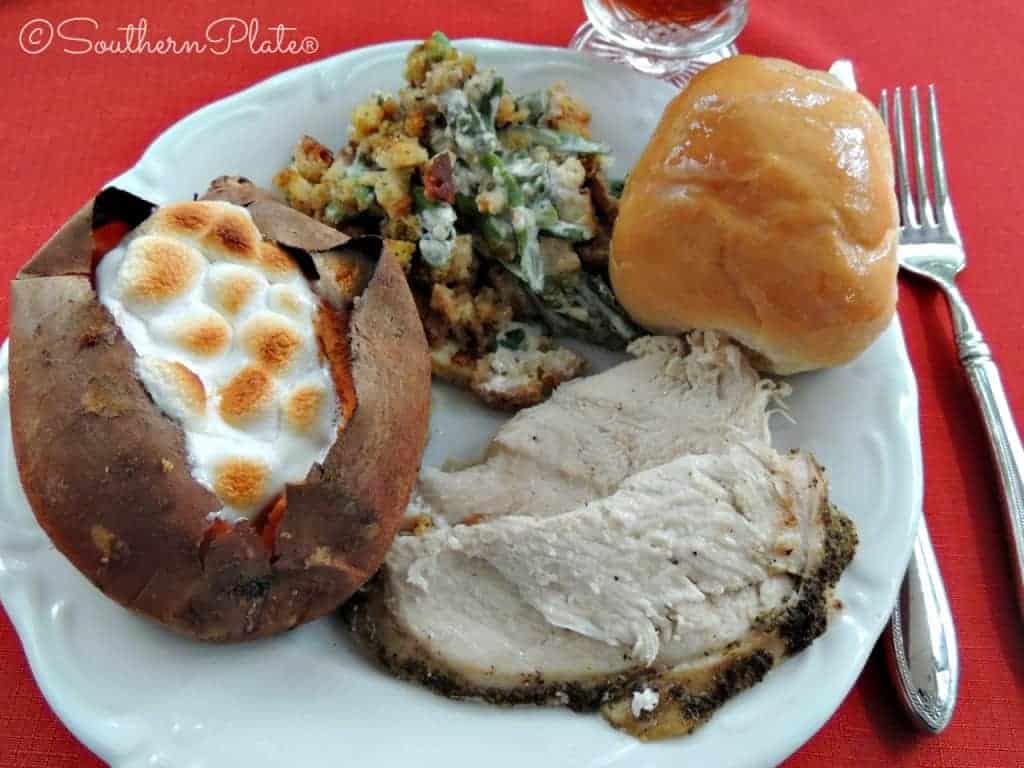 Scroll down for a printer friendly version of this recipe 🙂
To get my foolproof instructions for Perfect Baked Sweet Potatoes, click here.
~~~~~~~~~~~~~~~~~~~~~
Looking ahead to some great Thanksgiving Sides:
The sides pictured on the plate will be posted soon 🙂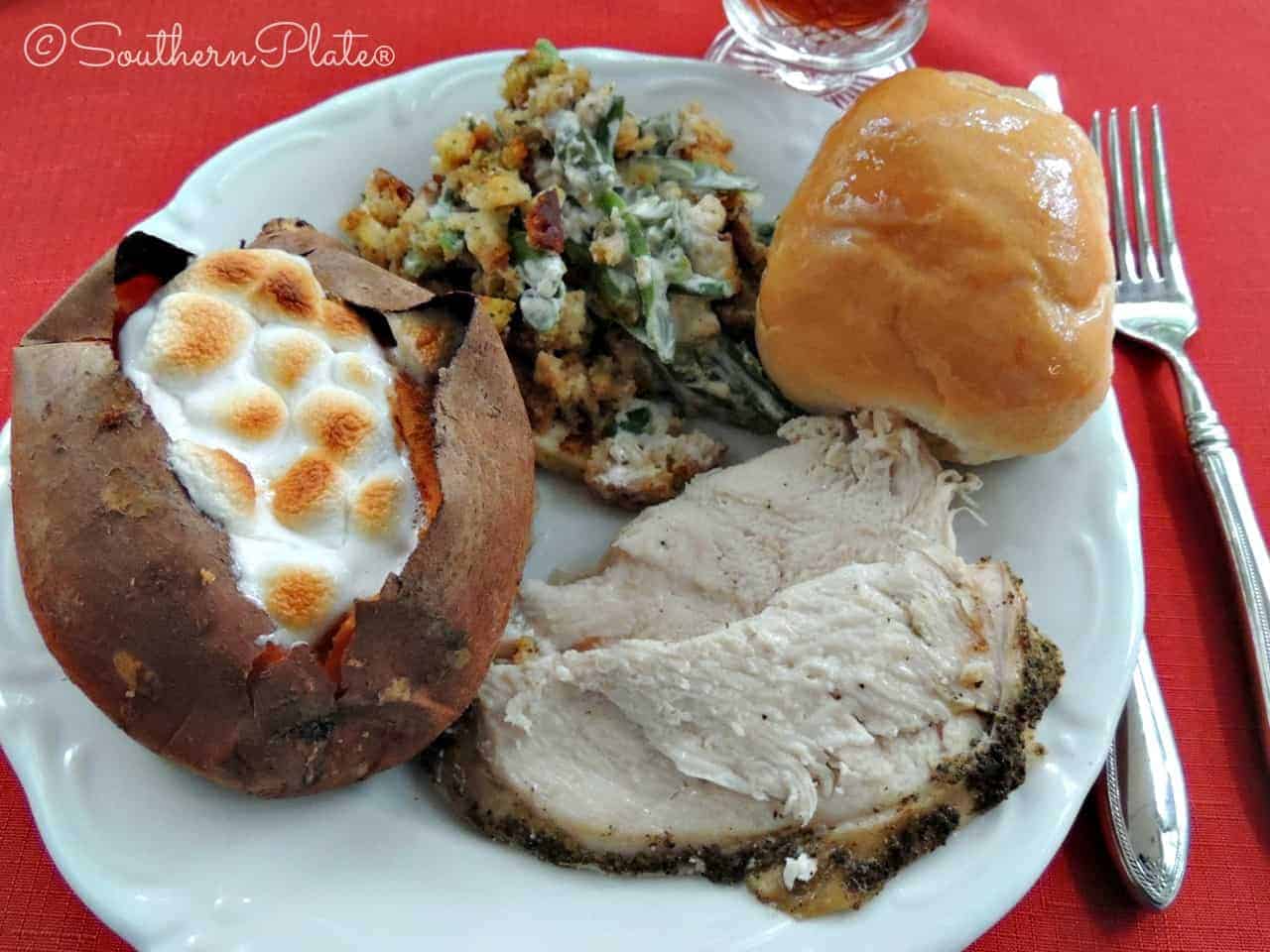 Ingredients
1

bone in turkey breast 5-7 pounds*

thawed

2

tablespoons

honey mustard

1

teaspoon

kosher salt

1

teaspoon

poultry seasoning

1/4

teaspoon

pepper

1

chicken bouillon cube

dissolved in one cup of water - or 1 cup chicken broth
Instructions
Place turkey breast in a 6 quart slow cooker. Pour broth into bottom of slow cooker.

Spread top of turkey breast with honey mustard. Stir together all seasonings and sprinkle evenly over top of turkey. Cover and cook on low, 7-8 hours or high, 4 hours.

Slice and serve.
*Make sure the turkey breast you pick out fits into your slow cooker with the lid on. If you stay within the recommended size it should be fine.
Nutrition
"A kind heart is a fountain of gladness, making everything in its vicinity freshen into smiles."
~ Washington Irving. Submited by Jenny