When you need a simple, quick, easy, and healthy Southern side dish to accompany your favorite main meal, try this recipe for last-minute green beans and tomatoes. It's lightly seasoned, only needs 5 ingredients, and is ready in just 15 minutes.
In the continual search for something green to add to our meals, this green beans and tomatoes recipe is a great quick and easy Southern side dish that makes canned green beans delicious. I say this with surprise because, until I made them this way, there was nothing more un-delicious to me than a can of green beans. Usually, I only served green beans when I had time to fry up bacon and make them sweet and sour style.
I was skeptical when my friend, Heather, told me this recipe for last-minute green beans was her son's absolute favorite side dish, but I tried it. I have to say, it has become one of our favorite side dishes, too. This is handy because you can keep the ingredients on hand easily enough and whip the recipe up at the last minute with very little thought (hence the nickname). Let me just say, it tastes great with my sticky chicken and maple-glazed pork chops. We do thorough taste-testing around here, of course!
So, what ingredients do you need on hand? Well, it's super simple: cans of French green beans, an onion, a can of diced tomatoes, and salt and pepper. That's it! Your green beans and tomatoes will be ready to eat in 15 minutes. Sound good?
P.S. I really don't fret over whether or not I have something green on every supper table. One of my favorite meal combinations includes sides of creamed corn, mashed potatoes, macaroni and cheese, and rolls! But we try to toss some green in there (like these green beans and tomatoes) for good measure to keep all of our home economics teachers from rolling over in their graves. I have a home economics degree, so it's my duty!
Now, time to make some last-minute green beans.
Recipe Ingredients
Diced tomatoes
French-style green beans (regular green beans work just fine)
Salt
Pepper
Onion
How to Make Last-Minute Green Beans and Tomatoes
First, chop your onion.
Drain your green beans and dump them into a pot.
Say hello to your green beans because they're being all sweet and posing for you. They look like they are seeking approval. HELLO, GREEN BEANS! You look mighty pretty today!
Add chopped onion and canned tomatoes (with juice).
And salt and pepper to taste.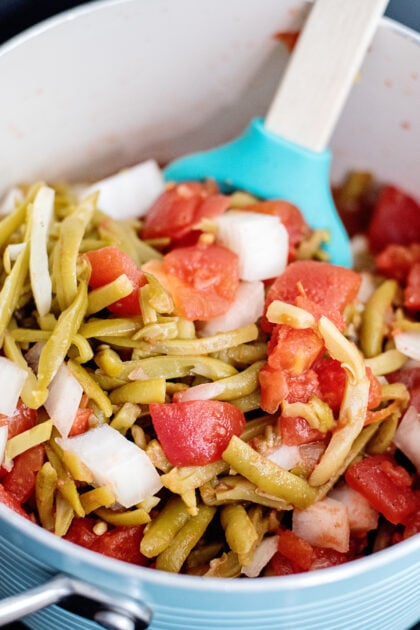 Stirry stirry.
Cook over medium-high heat until it just comes to a light boil.
Then reduce heat to low, cover, and simmer for 10 to 15 minutes.
The end result? A big bowl of green beans and tomatoes.
There are several serving suggestions below, but may I suggest some delicious chicken legs to accompany your green beans and tomatoes?
Storage
Store leftovers in an airtight container in the fridge for up to 4 days. Reheat in the microwave or on the stovetop.
Recipe Notes
You can also use fresh tomatoes or cherry tomatoes if you like. Just dice it up and go for it. Another option is to swap the diced tomatoes for canned fire-roasted tomatoes.
To make them extra tasty, add a teaspoon of garlic powder or minced garlic cloves. You can also add a tablespoon of sugar or brown sugar if you want a touch of sweetness.
For heat, you'll want to add a pinch of cayenne pepper, paprika, or crushed red pepper flakes

to this

(whatever spice you have on hand).
As mentioned, you can use either canned, fresh, or frozen green beans.
If your saucepot isn't non-stick, add a dash of olive oil or some butter to add flavor and ensure nothing sticks to the bottom.
Just before serving, stir through 2 tablespoons of chopped fresh parsley or chopped fresh basil if you like for Italian green beans and tomatoes (a very similar side dish).
Some Southern versions of this dish add crumbled bacon bits too.
Recipe FAQs
What do you serve with green beans and tomatoes?
Now, I know I included quite a few serving ideas in the intro, but hey, here are some more:
You may also like these other Southern side dish recipes:
Southern Deviled Eggs Recipe (Keto-Friendly)
Hush Puppies Recipe, Southern-Style
Ingredients
1

14.5-ounce can

diced tomatoes, undrained

2

14.5-ounce cans

green beans, drained

1

chopped onion

1/2

teaspoon

salt

1/4

teaspoon

black pepper
Instructions
Place drained green beans in a medium saucepot. Add in chopped onion, tomatoes with juice, salt, and pepper. Stir.

1 14.5-ounce can diced tomatoes, undrained,

2 14.5-ounce cans green beans, drained,

1 chopped onion,

1/2 teaspoon salt,

1/4 teaspoon black pepper

Place over medium-high heat and bring just to a light boil.

Reduce heat to low and cover. Simmer for 10 to 15 minutes.

Serve.
Nutrition
If you pray for God to move a mountain, be prepared to wake up next to a shovel.
~Unknown. Submitted by Rick (thanks, Rick!)