Tender on the inside and crisp on the outside thanks to the ultimate Southern combination of buttermilk and cornmeal, I hope you give eggplant and this easy fried eggplant recipe a go.
If you give a Southern lady an eggplant, she'll probably look at you funny. But she'll take it just the same because a Southern lady hates to be rude. She'll turn it around and admire its color and shape…until you tell her it is a vegetable. Once she realizes it is a vegetable..she'll ooh and ahh. Then, she's gonna want to fry it. That's just the Southern way!
Speaking of the Southern way, if we're going to be making a deep-fried eggplant recipe, you best believe that the eggplant slices will be dipped in buttermilk and coated in cornmeal (with a little salt and pepper for extra flavor). That's your ingredients list right there. After dunking and coating, all that's left to do is deep frying… in a cast-iron skillet, of course.
I adapted this recipe from my fried green tomatoes. However, in that case, we season our cornmeal mixture with Season All instead. You can use whatever seasoning you like (more options below). Do you know what else you'll find below? Lots of recipes that work with this vegetable side dish.
Eggplant might not be the veggie you automatically reach for at the supermarket, but hopefully, this Southern fried eggplant recipe will have you changing your tune and giving eggplant a go. Let's get cookin'!
Recipe Ingredients
Eggplants
Cornmeal
Buttermilk
Salt and black pepper
Oil for frying
How to Make My Fried Eggplant Recipe
Mix together the cornmeal and salt and pepper in a shallow bowl.
Place buttermilk in a separate bowl.
Slice eggplant.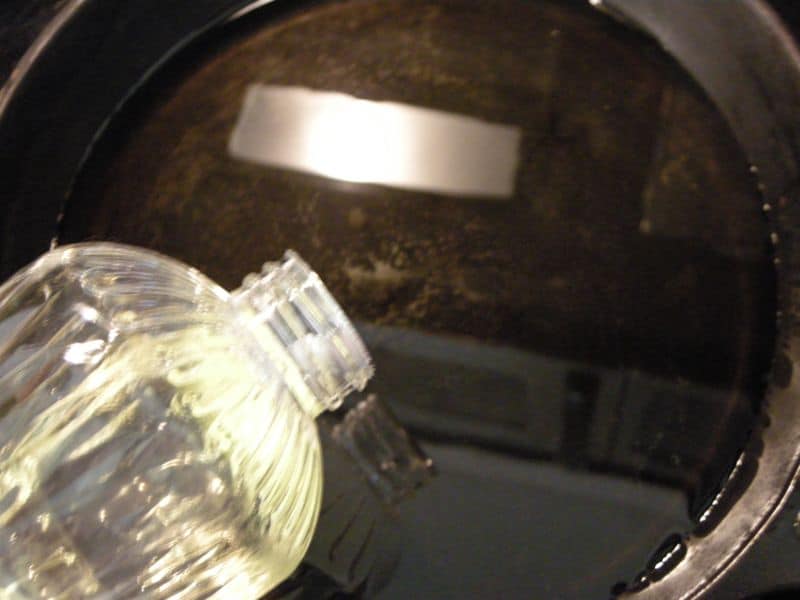 Pour oil into a cast iron skillet to about a 1/4-inch depth.
You want it to reach 350 degrees (use a candy thermometer to double-check).
Dip eggplant slices in the buttermilk…
And then in the cornmeal mixture.
Place the sliced eggplant in the hot oil.
Cook each fried eggplant slice until they're golden brown on both sides.
Once they are brown on both sides, remove them to a paper towel-lined plate.
Then serve immediately. Enjoy!
Storage
Store leftovers in an airtight container in the fridge for up to 5 days. Reheat in the oven or air fryer until their crispy eggplant slices once more.
You can also freeze the fried eggplant slices for up to 4 months. Thaw overnight in the fridge before reheating as above.
Recipe Notes
Instead of cornmeal, you can use 1/2 cup of all-purpose flour, 1/2 cup of panko breadcrumbs or plain breadcrumbs, and 1/3 cup of shredded parmesan cheese.
You may need to batch-cook the eggplant slices to avoid overcrowding.
Recipe FAQs
Does eggplant need to be soaked before frying?
If you like, you can soak the eggplant slices in the buttermilk for 30 minutes before frying. But it's not mandatory.
How long does eggplant take to fry?
Eggplant only takes about 1 to 2 minutes to fry on each side. Just give them a flip and then remove them once golden brown.
What oil is best for frying eggplant?
For deep frying, you want to use oil with a high smoke point. This means grapeseed, avocado, vegetable, canola, and peanut oil.
Is it better to fry or bake eggplant?
This is totally up to you. Baked eggplant uses less oil so it's lighter and healthier. But frying it is quicker and crunchier.
Do you have to peel eggplant before frying?
No, you don't have to peel the eggplant. I prefer to fry the slices with the skin on.
What seasoning is best for pan-fried eggplant?
Here are some seasoning suggestions (I'd add just a teaspoon): garlic powder, ground cumin, or Italian seasoning (like dried oregano, thyme, basil, or rosemary). Another option is a dash of cayenne pepper, paprika, or chili powder for heat.
What do you serve with crispy fried eggplant?
If you want to serve the Southern fried eggplant as an appetizer, enjoy it with ranch dressing or jarred marinara sauce. You can also add sliced mozzarella cheese on top for an easy take on eggplant parmigiana.
You can also enjoy it as a side dish with your favorite main meal. Some suggestions: grilled chicken tenders, chicken fried steak and gravy, pan-seared pork chops, Southern fried catfish, or beef brisket. It would also work with another vegetable side dish like zucchini and squash, fresh green beans, or grilled asparagus.
You may also like these fried veggie recipes:
Southern Turnip Greens (Quick and "Fried")
Fresh Fried Corn (Shucking, Silking, Cooking, and Freezing)
Southern-Style Fried Okra Recipe
How To Make Fried Green Tomatoes
Ingredients
1

cup

cornmeal

2

tsp

salt

1

tsp

black pepper

1

cup

buttermilk

2 or 3

medium eggplants
Instructions
Pour oil to a 1/4-inch depth in a skillet. Place on medium heat while you prepare the eggplant.

Place dry ingredients in a bowl and stir to combine. In a separate bowl, pour the buttermilk.

1 cup cornmeal,

2 tsp salt,

1 tsp black pepper,

1 cup buttermilk

Slice eggplant, then dip each slice in the buttermilk and then in the cornmeal mixture.

Place in the hot oil and fry eggplant slices, turning once, until golden brown on both sides.

Remove cooked eggplant to a paper towel-lined plate.

Serve hot with ranch dressing to dip in if desired.