Hey Friends!
This morning I got to thinking about what recipes I should share in my little group on facebook. It's not actually a recipe group, more of a fellowship group, but I do try to share some recipes from time to time.
For me, fellowshipping means feeding people in as many ways as possible: stomach, heart, spirit.
So today, I got to thinking about the things that, when I think about folks going their whole lives without every trying them, just make my heart ache. From that list, I came up with a few that would be perfect to make right now.
This is one of those nearly forgotten recipes from days of old. Scraps of biscuit dough were spread with butter, sugar, and a bit of cinnamon (sometimes), then rolled up and cut cinnamon roll style and cooked in a  sweet milk sauce. My grandmother used to make these for me and they are unlike anything I have ever had before. Think cinnamon roll but without so much cinnamon and an amazing sweet, creamy sauce. I have two versions of the recipe. The one above is a shortcut, every bit as good, that uses canned crescent rolls. The "from scratch" version can be found by clicking here.
I think just about every family I know makes this cobbler – for good reason. It's simply the best and it makes your stomach happy when you eat it. I am pretty sure it could bring about world peace. It's so good you might even end up getting a free pony or winning the lottery – or just feel like you did.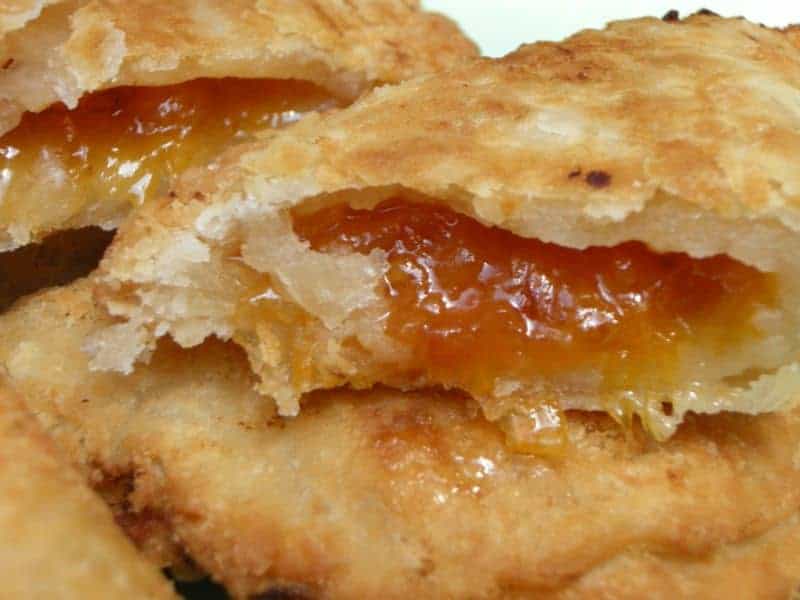 My Great Grandmother's Fried Peach Pies
Peach pie is a wonderful thing, but when you make a real old fashioned fried peach pie – using dried peaches that have been "cooked up" with sugar and butter, most folks aren't prepared for the huge difference in flavor it has. Take peaches and magnify their taste times ten and that is about what these are. My great grandmother, Lela, used to make them for us. She always hummed a quiet tune when she cooked. I swear I can hear her soft voice whenever I stand over a frying pan of these pies.
It is summer, tomatoes are coming in, and that is the ideal time to partake of their tomato-y goodness. This is what I make for lunch several times a week making my summer mozzarella expenditures rival our electricity bill.
Fresh corn is one of the greatest pleasures in life. I rank it up there with marrying your soul mate, becoming a mother, or being handed a basket of fuzzy newborn kittens. This post shows you how to shuck it, silk it, scrap it off the cob, and cook it.
However, if you want a shortcut version that is almost as good, I got that, too…
My Easiest Ever Creamed Corn
This recipe uses frozen corn and a homemade butter sauce – oh mercy it's good!
So these are your cooking assignments for the weekend. Let me know how many you get to make. Each one counts as 25% of your grade – but you get a bonus 25 points if you invite me :).
~~~~~~~~~~~~~~
I always like to look on the optimistic side of life, but I am realistic enough to know that life is a complex matter.
~Walt Disney