Holiday Menu Bonanza With Time Saving Tips! 70 RECIPES!
Read my tips and tricks for a stress free holiday dinner by clicking here.
OVER 60 RECIPE LINKS BELOW!
I love big family get-togethers and two of my very favorite are coming up: Thanksgiving and Christmas Dinner! We tend to have a few celebrations, with larger family gatherings as well as smaller special meals (just the four of us) to celebrate the occasion. Often, with the larger family gatherings, the meal consists of a huge assortment of everyone's favorites – and Mama and I pride ourselves in making enough for everyone to carry home at least one plate (or two!) per person to enjoy later.
But meals like this can be very stressful for the cook unless you plan ahead of time to make them easier and as pre-prepped as possible. With that in mind, I've written a post with the tips and tricks I use to make my Thanksgiving just as enjoyable as it is for the folks who aren't cooking the meal 🙂 To read that post, please click here.
Below, you'll find a pretty long list of some recipes we have had in the past or plan on having this year at our holiday dinners. Click on each recipe title to be taken to that post.
I hope these inspire you and make your Thanksgiving even more delicious!
RECIPES! RECIPES!
The Main Meal (or the grand event!)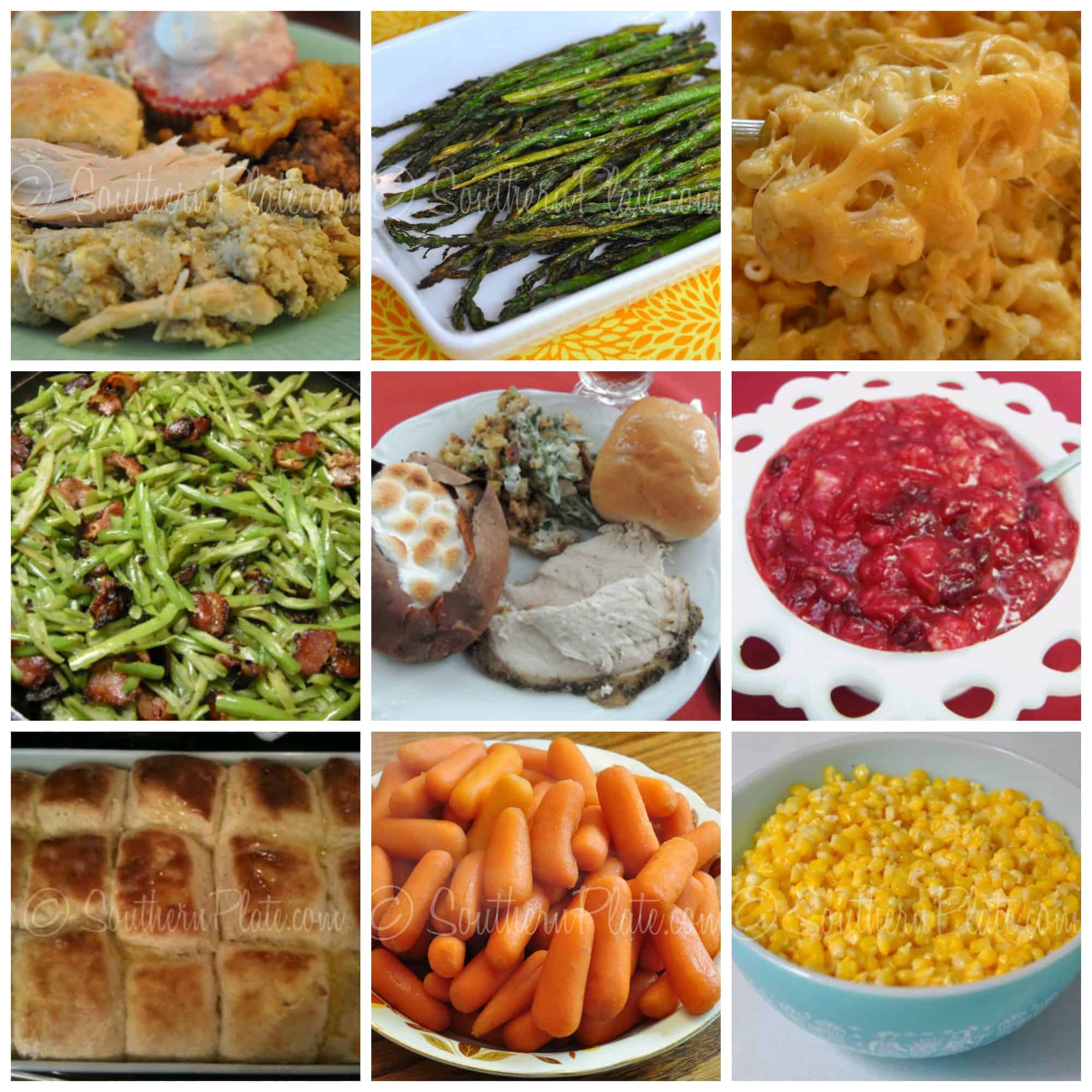 Clockwise: Grandmama's Cornbread Dressing (easy and moist!), Roasted Asparagus, Baked Mac and Cheese, Cranberry Relish, Easiest Ever Creamed Corn, Candied Baby Carrots, Jordan Rolls, Sweet and Sour Green Beans, and Slow Cooker Turkey Breast with Perfect Baked Sweet Potatoes (center). Many more recipes are listed below!
A little something sweet…
Clockwise: Red Velvet Cupcakes, Sweet Potato Creme Brûlée, Super Fruit Salad (low sugar), Pumpkin Pie Dip, Pumpkin Roll Cupcakes, Aunt Sues Pound Cake with Mama's Custard Sauce, Faux Pecan Pie, German Chocolate Pie, and Lemon Meringue Pie (in center). These and many more recipes are below!
And don't forget this…
~~~~~~~~~~~~~~~~~~~~~~~~~~~~~~~~~~~
"Let gratitude be the pillow upon which you kneel to say your nightly prayer. And let faith be the bridge you build to overcome evil and welcome good."
~Maya Angelou